Why it is impossible to clean your house without chemicals!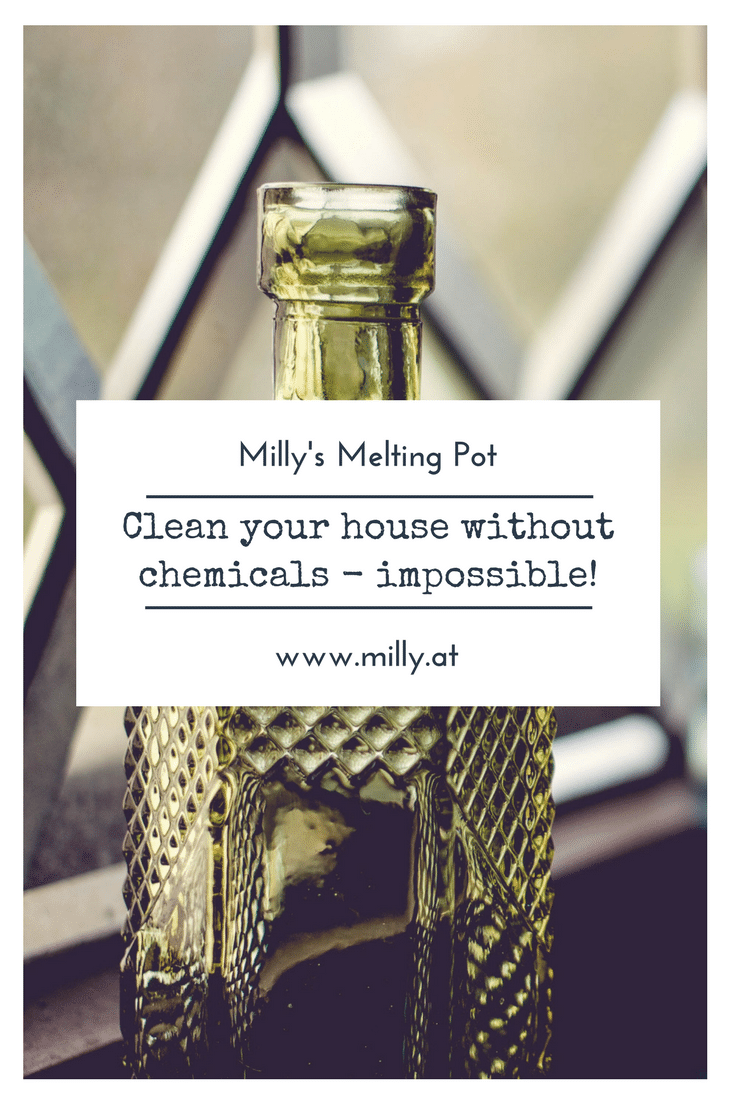 More and more people have developed a consciousness about what type of products they use for cleaning – does it harm my family, myself or the environment? I especially often hear this from parents, that want to keep their environment chemical free and clean for their little ones..
But let me tell you one thing – that is impossible. Everything is chemistry – the air, the food we eat, the materials around us, but most of all ourselves.. What most people associate with "chemicals" are in fact "harmful chemicals". And that's where I come in. As a biochemist (true, I swear 🙂 I want to give you a little insight into which chemicals will help clean your home in a safer way and additionally protect your budget. Also a tip that is close to my heart is: don't fall for the buzz words "natural" – just because it's natural, doesn't mean it can't harm you. Heroin, Botox and snake venom are 100% natural – but they will kill you easy cheesy!
So here goes – my 6 favorite chemicals to clean my home:
Warm water
As the most common solvent (another buzz word:), you will see that warm water will give you a good base – it will eliminate the majority of dirt. If you use warm water, it's dissolving properties will even increase, as heat always helps. It may make fats easier to wipe away, even though they are not strictly water soluble, they will become softer and easier to remove. Check out a funny video about solutions and solvents here.
Regular dish soap
Warm water and a little dishwater soap will clean just about anything, including greasy spots and surfaces! This is because "soap" consists of molecules that are partly water soluble and partly fat soluble. Soap will create something called a micelle when mixed with water in a specific amount (you might have seen a certain cosmetic company selling "Micelle Water"). These micelles are able to "trap" greasy dirt within the water and remove it. To get more info, check out this video! I also use this mix to gently clean my jewelry, it works wonders and leaves your jewelry sparkly fresh!
Vinegar
Vinegar mixed with water will clean your fridge, your windows and descale your showerhead, your faucets, coffee machine etc.. The acid in vinegar (acetic acid) will remove limescale (and ore efficiently than many store bought products). I usually use a roughly 1 in 4 mixture. If you want to speed up the process don't add more vinegar, just heat up the mix. The energy will accelerate the chemical reaction. I use vinegar for so many things, and it actually protects your budget. You don't need to buy all those expensive cleaners that cost 1000000000 EUR a bottle.
Vinegar is not just good to remove limescale and deodorize your fridge, it also comes in handy while doing laundry. I add vinegar to almost every washing I make, it keeps your clothes fresh (you don't smell the vinegar) and it will keep gunk from building up in your washing machine. Also it is by far not as harmful to the environment as other stuff!!
CAREFUL: vinegar is an acid and even though you can eat it, it can be aggressive. There are some surfaces that don't like to be cleaned with vinegar such as marble (Fun fact: Marble is chemically identical to limescale or chalk or eggshells – so avoid using vinegar on these things/surfaces and always test it first!
Vodka
I love Vodka and not just in my cosmos:) Vodka has a high percentage of alcohol (ethanol) and ethanol is especially good at doing 2 things: First ethanol is a very good solvent, similar to water. You can use vodka to clean your glasses or your windows (although that might be more expensive than buying a window cleaner:). The high percentage of alcohol also makes it a good disinfectant. I myself have used it to remove mold in the bathroom, as long as it is still on the surface. You can also use vodka as an after-shave, it will disinfect your face. And funnily enough: Vodka doesn't smell. You can also use it to refresh your clothes or disinfect your hands while traveling.
Toothpaste
We use it to clean our teeth right? So why not for other household stuff? I have used toothpaste to efficiently clean and re-whiten rubber, as in my sneakers. I have also used a toothbrush and toothpaste to clean my jewelry. Sometimes it is good to have a toothpaste with little grains, that will remove dirt by friction, but I would be cautious in using toothpaste with micro-beads to clean jewelry as to avoid scratches.
And last but not least..
Nail polish remover
Ok! I admit this one is not like the others, but I love it! My absolute favorite actually. In the old days, nail polish contained acetone, which is quite toxic. Nowadays they use different solvents, but solvents none the less. The best cleaning materials are those that can dissolve things easily. Have you ever cleaned your kitchen and found that there were some corners where some old fat got stuck like in the filter of the hood or just in some mucks of your pots and pans? Well no need to go and buy expensive chemicals – try your old nail polish remover instead. You will see, it will wok wonders on a cotton wool pad. But be careful, these are still chemicals, but you will have them ready in your house to try out!
Please be cautious while using ANY chemical – use common sense and protect yourself and others.
Curious yet? If you want to know more, just get in touch through Facebook, Instagram, Pinterest or just join the community mailing list here! If you want to know even more on the chemistry of our everyday lives, check out my categorie "The bubbly biochemist" or join my Facebook group "The bubbly biochemist" and get loads more articles and information sent your way!