Traditional European Medicine – Ayurveda of the Alps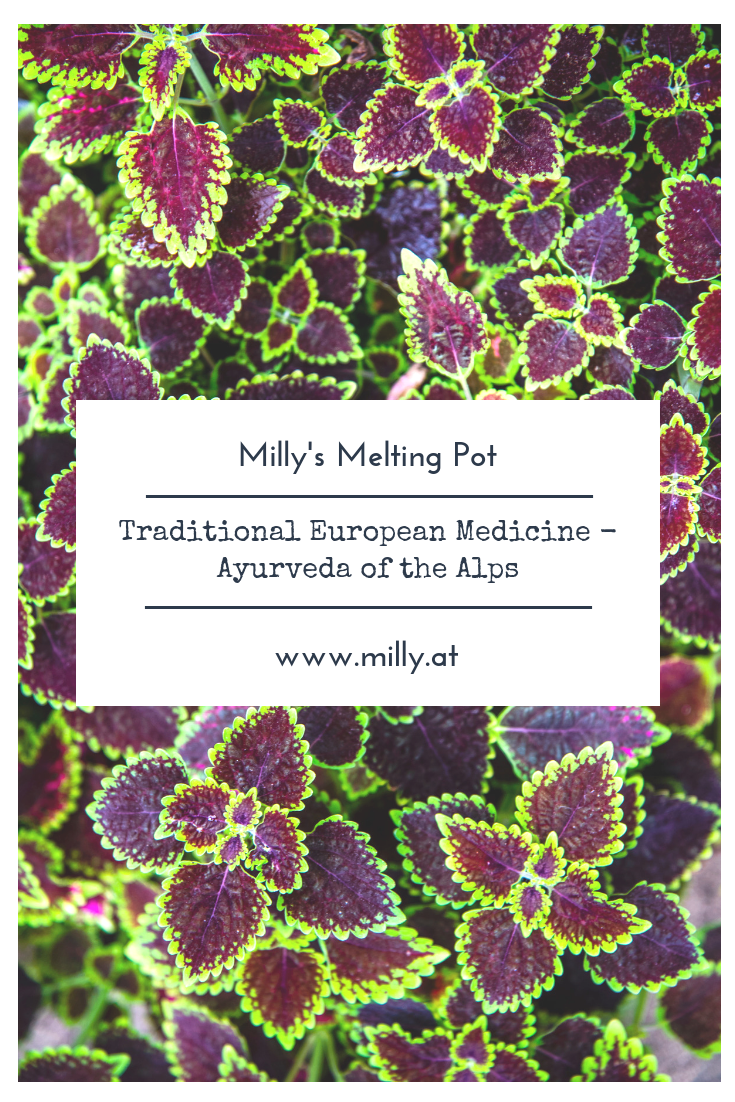 Published in the magazine Revue (Nr 46/2019)
---
Western medicine or grand-ma's tips and tricks? Many of us think these are contradictory. However recent studies have found that one doesn't necessarily have to exclude the other. Traditional healing practices are not just found in exotic countries far away – here in Europe we are lucky to also have Traditional European Medicine, which primarily deals with local plants and their medicinal benefits.
---
Many people are currently looking for a viable alternative to the usual "western medicine". Sensationalism, fear mongering and a few scandals have really hurt the reputation of the medical and research field. People tend to turn to older and trusted methods like herbal medicine, traditional Chinese medicine and an show an increased interest in their environment and nature. Quite rightly so!
According to the WHO, more than 70 % of the world population is treated with more traditional medicines as opposed to western medicine. But does one really exclude the other? Sometimes Yes, sometimes No – the popular philosophy of a more holistic approach to medicine, which doesn't just consider the symptoms but the whole organism and the soul, shouldn't just be a trend but the standard procedure. And all experiences and therapeutic possibilities should be taken into account.
What exactly is Traditional European Medicine?
Traditional medical treatments can not just be found in exotic far away countries – here in Europe there is the Traditional European Medicine, that is specialized in the medicinal properties of the local flora. For a long time "The Ayurveda of the Alps" was only transmitted by interested parties and trained specialists – nowadays however these traditional therapies are gaining a lot of popularity.
Traditional European Medicine (TEM) is a not exactly defined term that includes traditional therapies that have their origin in Europe. Nowadays these alternative approaches to medicine have gained a lot in popularity, especially in area's like spas. As the term is not exactly defined, some more contradictory medical treatments like Kneipp-therapy or homeopathy are also sometimes added to the definition. TEM however is most often used as a synonym for the local herbal medicine.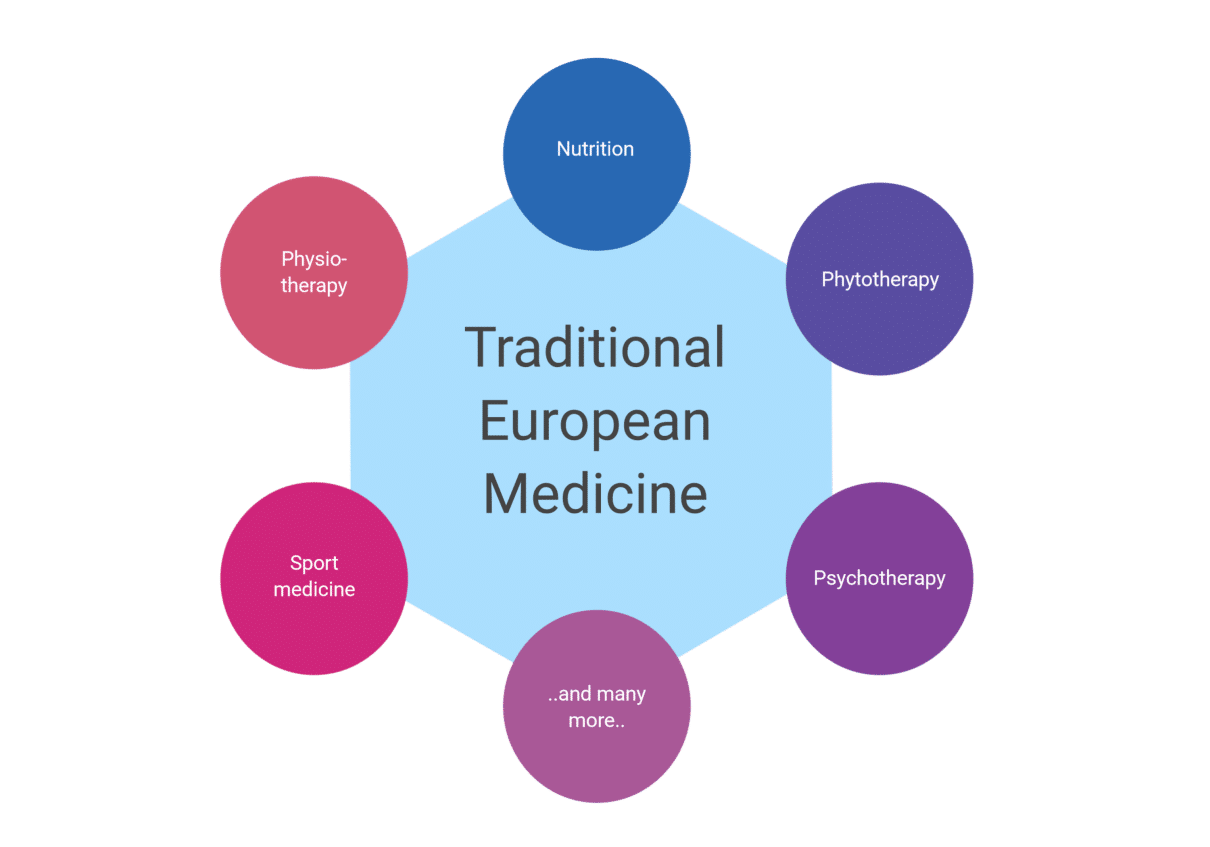 "Let your food be your medicine and your medicine your food" (Hippocrates) – TEM in the kitchen
In the olden days the knowledge about the healing properties of the local herbs was often tightly associated with cooking. Herbs didn't just offer medicinal properties but also lovely flavors. A cookbook could therefor also be used as a medical guide. In the late middle ages, when Europeans discovered the American continent, the ingredients used in most European cuisine drastically changed – ingredients like chilies, potatoes or corn weren't used until then.
Spices and herbs are an important ingredient in many traditional medical approaches. If you were to fall ill in olden days, you were likely to die of your affliction. At the time the philosophies that food strengthens you and protects you from ailments was very strong at the time. Even Hippocrates recognized the link between our food and our health. Spices and herbs as medicine – these thoughts are becoming very popular again. That spices were very expensive and often traded as medicine is reflected in the wealth of certain trading cities like Venice or Genua.
That these traditional methods are spiking our interest is also logical from a biochemical point of view. Plants contain a multitude of active chemicals that influence our body at many different levels. That's why these traditional methods have been used for centuries to prevent or heal certain diseases.
Traditional chinese medicine is based on millennia of experience. However we know now how some of the remedies work at a biochemical level. The knowledge hidden in these traditional medical approaches is of such importance, that the UNESCO classified it as an intangible heritage. With this decision they underlined how essential these traditional medicines really are. The WHO also wants countries to add certain herbal medicines to their therapeutic guidelines – partly also to make sure that the quality of certain remedies and therapies is always given.
Ancient knowledge – new interpretation
In recent years some groundbreaking advances in the (Western) medical field have led much of the traditional knowledge of our ancestors to be forgotten. It seems we lost an important connection to a part of our cultural heritage. But this didn't last long – scientists, doctors and even great chefs have recognized to value of these traditional remedies and found their way back to this knowledge. And even if some people don't know traditional European medicine, we all have some tricks of it's up our sleeves.
Good examples for very efficient herbs in the TEM are Arnica, that is mainly used to heal wounds (nowadays also used in conventional medicine). Hop, balms and valerian have a calming effect and help you sleep. Balms, chamomile and marigold tea calm your stomach. St. John's word, also used in TCM, has anxiolytic and calming properties. Meanwhile we also know how this plant affects our bodys in a biochemical way and don't just rely on experience. A combined approach using all of the benefits of traditional as well as conventional medicine could be trendsetting to the development of a new philosophy in modern medicine.
(Careful: TEM is surely an efficient medical approach, but for acute medical needs, please see you doctor.)
Tips & Tricks: Grandma's knowledge (Source: www.salzburgerland.com – TEH)
 Stinging nettle have a positive influence on our immune system
Elderflower and linden blossom tea helps with a starting or acute cold
Blueberries help with diarrhea and varicose veins
Young spruce or pine shoots have a positive influence on airways and help against muscle and neuralgia.   If you have a cough make a syrup with one part shoots, 4 parts water and 3 parts sugar.
Birch leaves are diuretic.
Hawthorne strengthens the heart.
Don't forget to register for my bimonthly emails and receive all of the recipes and news at once. Or just follow Milly's Melting Pot on Facebook, Instagram, Pinterest or now also on Twitter and never miss any news!
Bibliographie
– Wikipedia
– https://www.salzburgerland.com/de/kraeuter-heilkunde/
– https://www.teh.at/teh-verein/teh-therapie/
– https://www.thurerhof.at/unser-teh-bio-naturgarten/teh-traditionelle-europ%C3%A4ische-heilkunde/
– https://www.heilpflanze.at/traditionelle-europaeische-heilkunde-teh/
– WHO
– https://www.susannekaiser.com/%C3%BCber/kr%C3%A4utermedizin/
– https://www.heilkraeuter.de/
– https://www.fitundgesund.at/tem-artikel-2739