Low Carb Red Currant Meringue Cake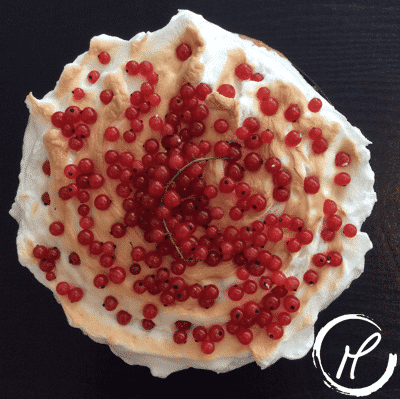 My boyfriend asked e if I could try and make a traditional austrian red currant cake in a "low carb" version. He has been living on a "low carb" diet for over 15 years and he says he doesn't miss much – but he misses this cake. ANd if he asks (which he never does), I am thrilled to start my culinary experiments in the kitchen!
Of course you can make this cake the traditional way with flour and sugar. Just use a sponge cake as a base or a simple white vanilla cake..a recipe for that will be available next week, when I write about my cupcakes!
For the "low carb" version start by mixing the soft butter well until it becomes creamy. Add the sweetener and the soy yogurt. When everything is mixed well, add the eggs one at the time and continue mixing vigorously. Add the flour and the baking powder at the end and in little portions. My mixer broke, so I mixed everything with the handheld mixer. However, I would advise everyone that using a mixer would be favorable to make the cake fluffier. Mine was good but a little compact. Now bake the cake at 180°C for about 30 min, depending on your baking tray. Just do the skewer test – if it comes out clean the dough is cooked.
While the cake cools, whisk the eggwhites, water, lime juice and sweetener to a meringue. Apply coarsly on the cake and grill at high temperature for about 5 min until the meringue starts to golden. Add the red currants. Et voilà:)
For more recipes and some freebies just subscribe to the newsletter!
Einkaufsliste:
100 g butter
200 g soy yoghurt
4 eggs
1 packet of baking powder
150 g almond flour
150 g soy flour
Sweetener to taste
4 egg whites
Red currants