Mini naked cake with a bourbon vanilla creme, poppy seeds and plum jam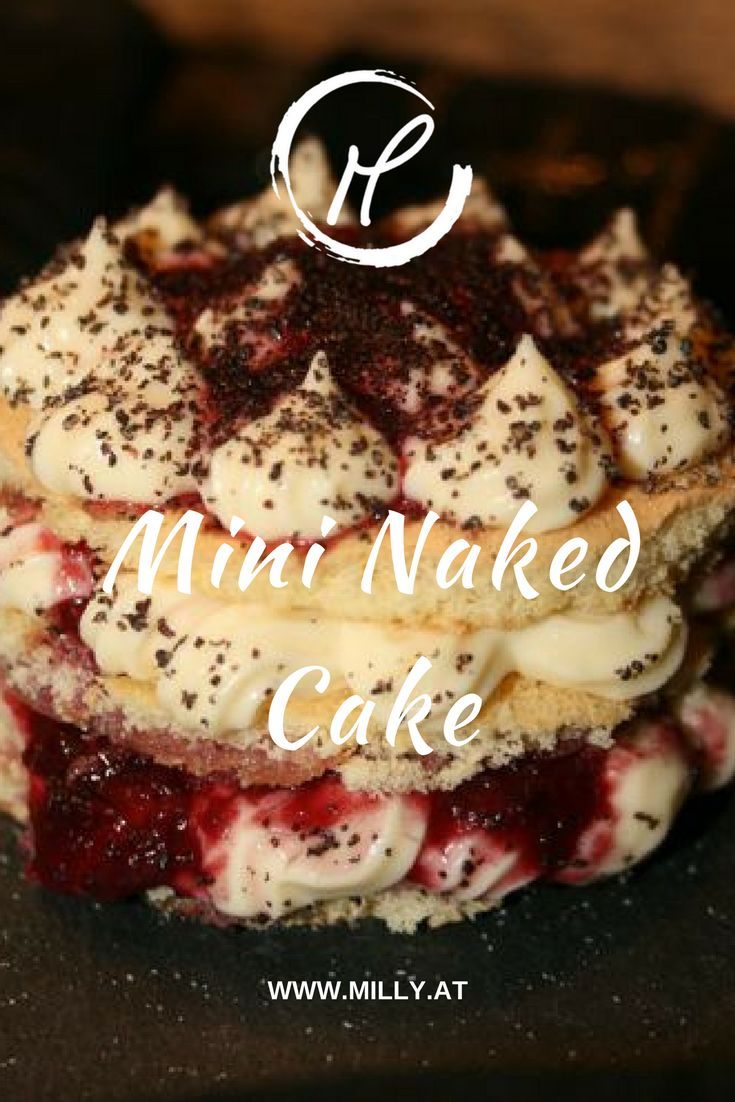 The ABC blogger conference is over and I am bubbling with new ideas. What better to clear your head than to focus on food 🙂 The inspiration for this naked cake while thinking of my childhood skiing holidays and the "Germknödel" we ate in Austria. A "Germknödel" is made of a steamed yeast dough, filled with plum jam and often served with custard or melted butter with poppy seeds. I love this dish, however it is usually too big for me. But I fancied this typical combination of flavors that takes me back to my childhood.
What emerged from my brainstorming was this delicious mini naked cake that absolutely satisfied my cravings! First prepare the crème patissière or vanilla custard as this needs to cool. Scrape out the vanilla seeds from the pod and add the seeds and the pod to the milk. Let this boil shortly and leave the vanilla milk to cool for 15-30 minutes. In the mean time beat the egg yolk and sugar until frothy and add the milk in small portions. When everything is mixed, heat this creme on the stove until it thickens and don't forget to constantly stir. When the custard is thick, cover with cling foil and let it cool in the fridge (Tipp: press the foil directly onto the custard to avoid it creating a skin.)
For the sponge, froth the egg yolk and sugar. Add the flour and baking powder. Beat the egg white to a meringue and gently mix with the egg yolk-flour mixture. Spread the dough on a baking tray and let it bake at 180°C for roughly 10 min (It is better to bake it a few minutes less, than to overbake. The dough will become hard and loose its fluffiness).
When the dough is done, use a glass to cut out circles. Add the whipped cream to the custard gently and put this vanilla cream into a piping bag. Arrange the first circle, add the custard around the outside and add a spoon full of jam to the middle. Proceed the same way with the next layer etc. In the end sprinkle with poppy seeds. Et voilà:)
Don't forget to subscribe to my weekly newsletter!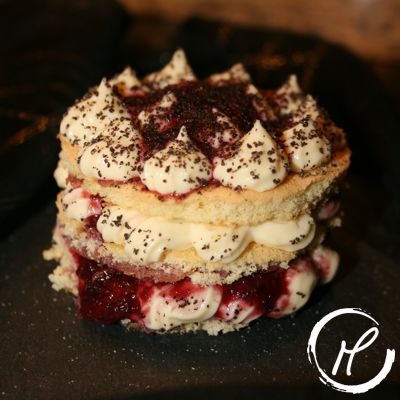 Shopping list (for 1 mini naked cake):
Vanilla custard:

1 pod of bourbon vanilla
125 ml milk
1 egg
40 g powdered sugar
5 g flour
5 g corn flour
100 ml whipped cream

Sponge:

1 egg
30 g flour
30 g sugar
1/3 Tbsp baking powder

Plum jelly or jam (or any other fruit puree or jam)
Poppy seeds