Duet of white and green asparagus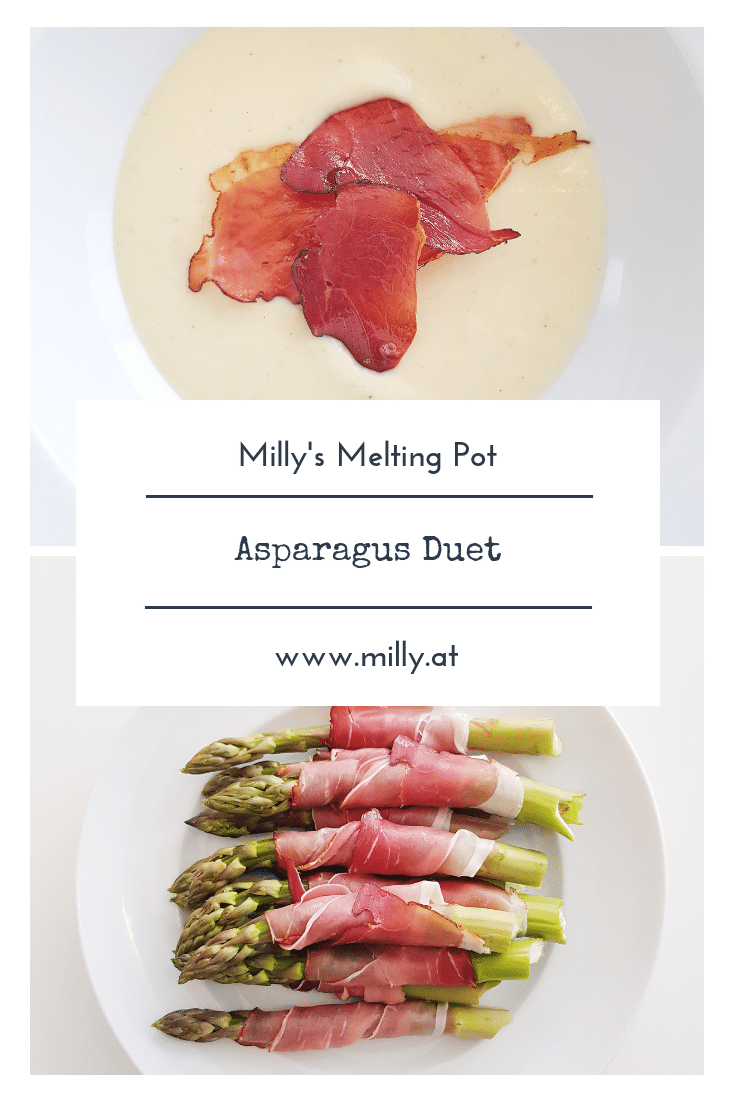 Every year I look forward to the asparagus season, and this year I want to share my recipe for a tangy asparagus soup with you. This recipe can be adapted for "low carb" diets as well as for "low fat" diets". I always try not to waste any food in the kitchen, but lately I have been a big fan of the "from nose to tail" movement. I am trying to change my habits in the kitchen and generally my attitude, so that I use everything that I can while preparing food!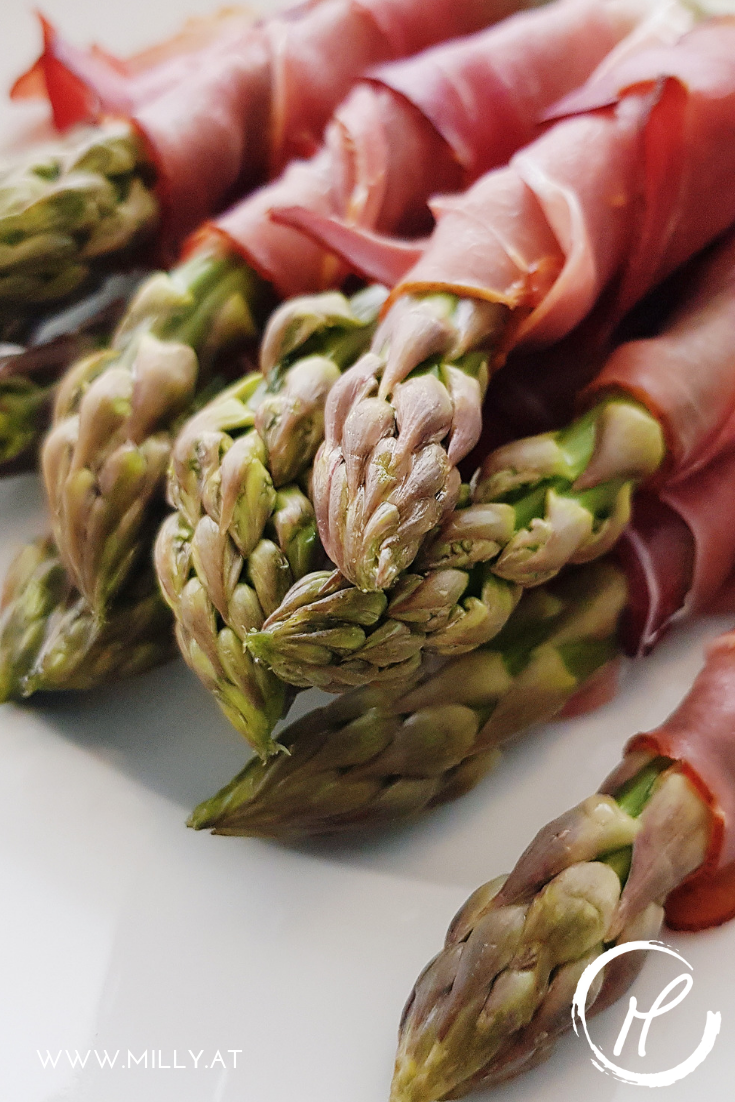 This recipe is a good example, as I used the stalks and peels of the white asparagus to make a tasty stock – that way every bit of flavor is used. I cut the stringy ends of the asparagus and peeled them. I boiled this with some water, salt, a pinch of sugar and a little bit of butter for about 15 Min. Then strain it and collect the liquid (Tip: You can use this stock for the soup or let it reduce a little more and freeze it in an ice tray for extra flavor next time.)
While the stock is boiling, cut the stringy end of the green asparagus, wrap them in bacon and cook them in the oven at 180°C for 30 Min.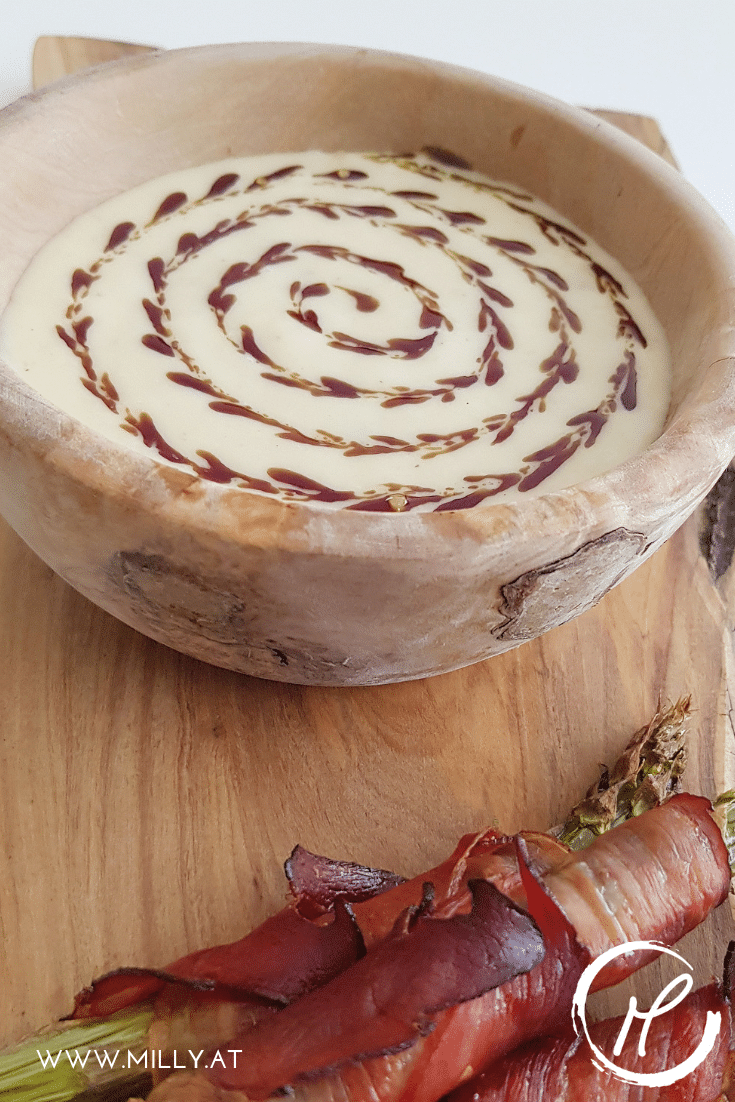 For the soup, fry the coarsely chopped onion, the chopped white asparagus and the chopped potato in a little butter. Add the white wine and lemon juice. Take the asparagus stock and fill it up to 750 ml with vegetable stock. Add this to the soup and season with salt, pepper, a pinch of sugar and nutmeg. Let this simmer for 15 min until the vegetables are soft, then blend. Add a dash of cream or milk if you like (Tip: For people on a "low fat diet" , you can obtain the creaminess of the soup by adding rice or potatoes. For this on a "low carb, high fat" diet, replace potatoes with cream. This way one can adapt this soup for many different diets). Et voilà:)
Don't forget to register for my bimonthly emails and receive all of the recipes and news at once. Or just follow Milly's Melting Pot on Facebook, Instagram, Pinterest or now also on Twitter and never miss any news!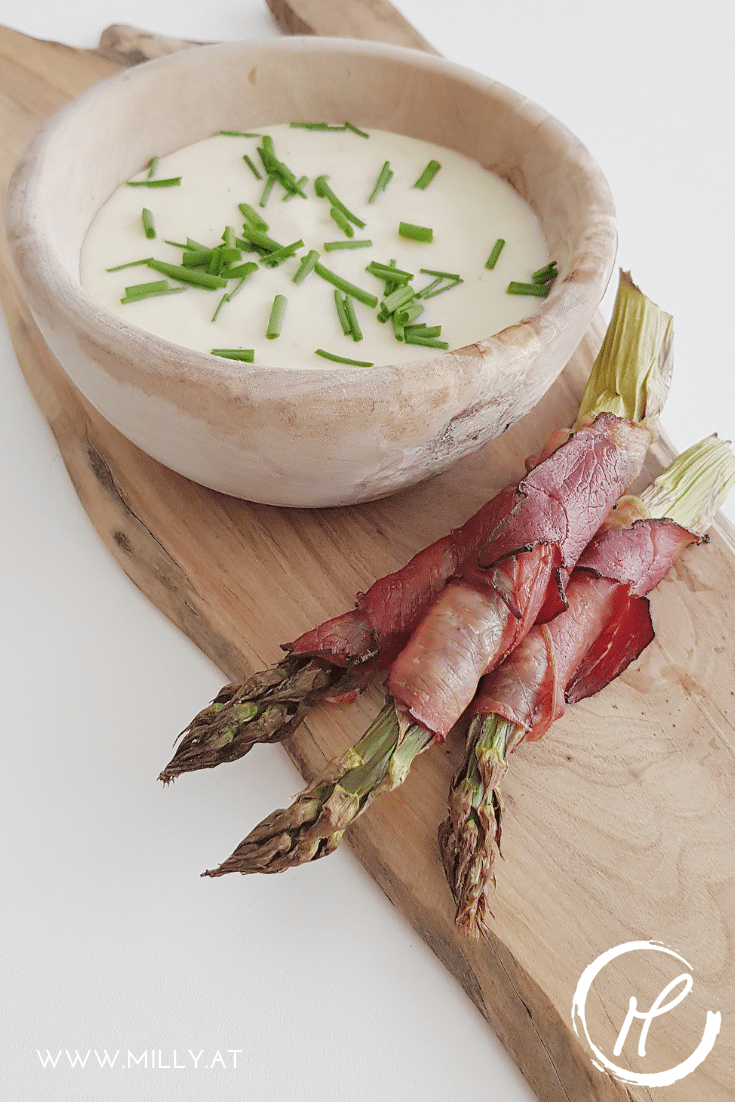 Shopping list:
500 g white asparagus
500 g green asparagus
1 onion
2 potato
30 g butter
Juice of 1 lemon
750 ml vegetable and asparagus stock
1 dash of cream or milk
Salt/pepper to taste
2 pinches of sugar
Nutmeg to taste
100 ml whipped cream