Homemade Tikka Masala Paste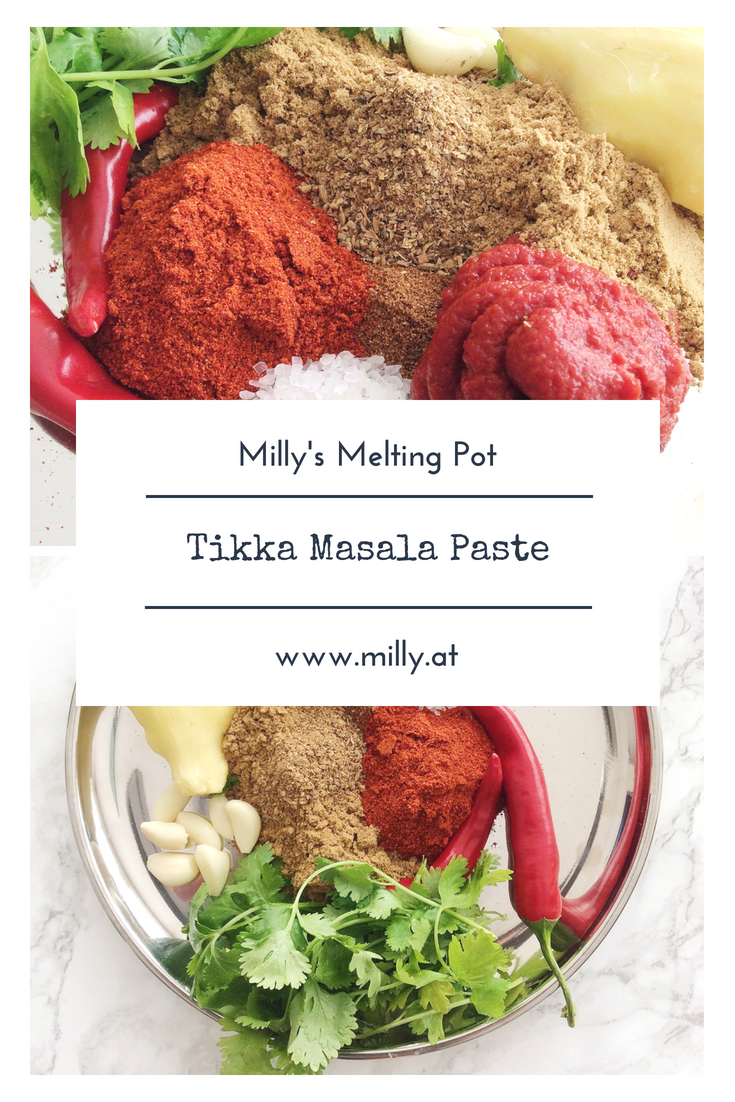 I love indian cuisine – it's genetic 🙂 However I get irritated when it takes me years to finish a packet of a certain spice. I can imagine, that amongst other reasons, people shy away from indian cuisine as it does represent a little initial investment to get all the ingredients – not even mentioning storage. And although they keep very long, spices tend to lose their aroma over time. (Tip: freeze little portions to keep the aroma, or just freshen the spices up by shortly roasting them in the oven.)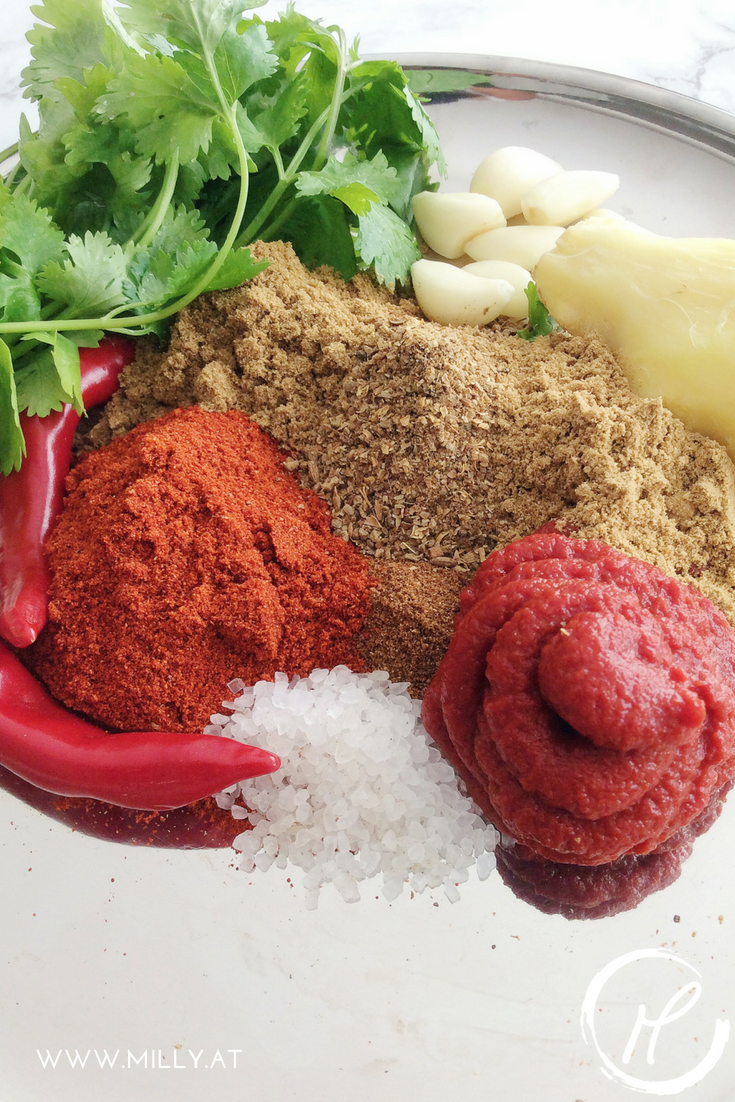 I want to offer you the opportunity to make you own pastes and not to have 20 packs of spices laying around. This recipe is for a tikka masala paste, that you can use for a variety of recipes. I used a similar paste (store-baught though) in the first recipe I published on the blog – the low carb cabbage spring rolls. I would suggest to make quite a bit and share between friends and family. The amount of work is the same, and you get to use up all your spices.
The recipe has been slightly adapted, but it was inspired from Jamie Oliver's curry paste recipes. Just add all ingredients to a blender and blend until the paste is smooth. Add oil as required. Fill in a jar and cover with oil. I heated the jar to 80°C for 30 Min to test if this increases shelflife. We shall see 🙂 Keep the paste in the fridge and use up as quickly as possible (just trust your nose). Use the paste to grill some vegetables or mix it with yogurt to marinate chicken. Et voilà 🙂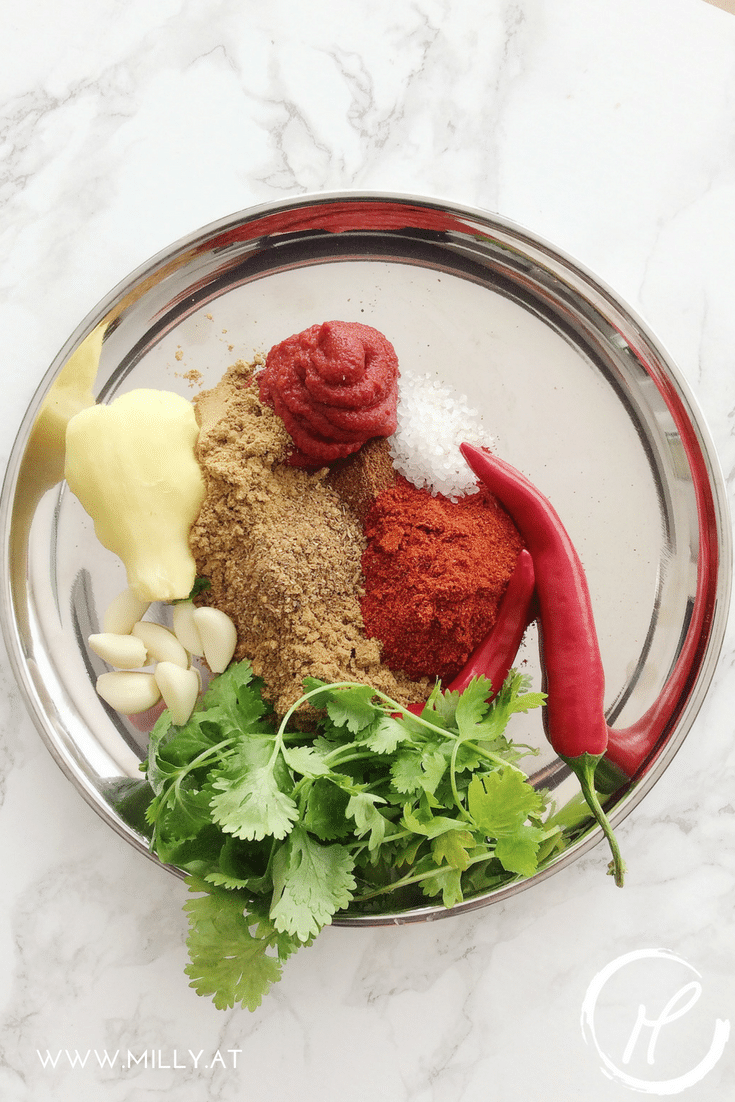 If you want the recipes for other curry pastes, just drop me a note or a comment! If you can't drop by the blog all the time, just follow Milly's Melting Pot on Facebook, Instagram or Pinterest and never miss a recipe! Or just register for my weekly newsletter and get everything delivered straight to your inbox!
Last but not least: if you are in the Graz area and you are interested in learning how to make indian food, check this out! Join me for one of my cooking classes 🙂
Shopping list (for 1 middle sized jar) :
5 cloves of garlic
1 large piece of ginger
1 Tsp chili powder
2 Tbsp paprika
4 Tsp Garam Masala
1 Tsp salt
4 Tbsp tomato concentrate (puree)
2 fresh red chilis
1 large bunch of fresh coriander
2 Tsp ground cumin
2 Tsp ground coriander seeds
Neutral oil as required (sunflower seed or rape seed)
Limejuice to taste