Buttery Apple-Puffpastry-Roses with Bourbon Vanilla Cream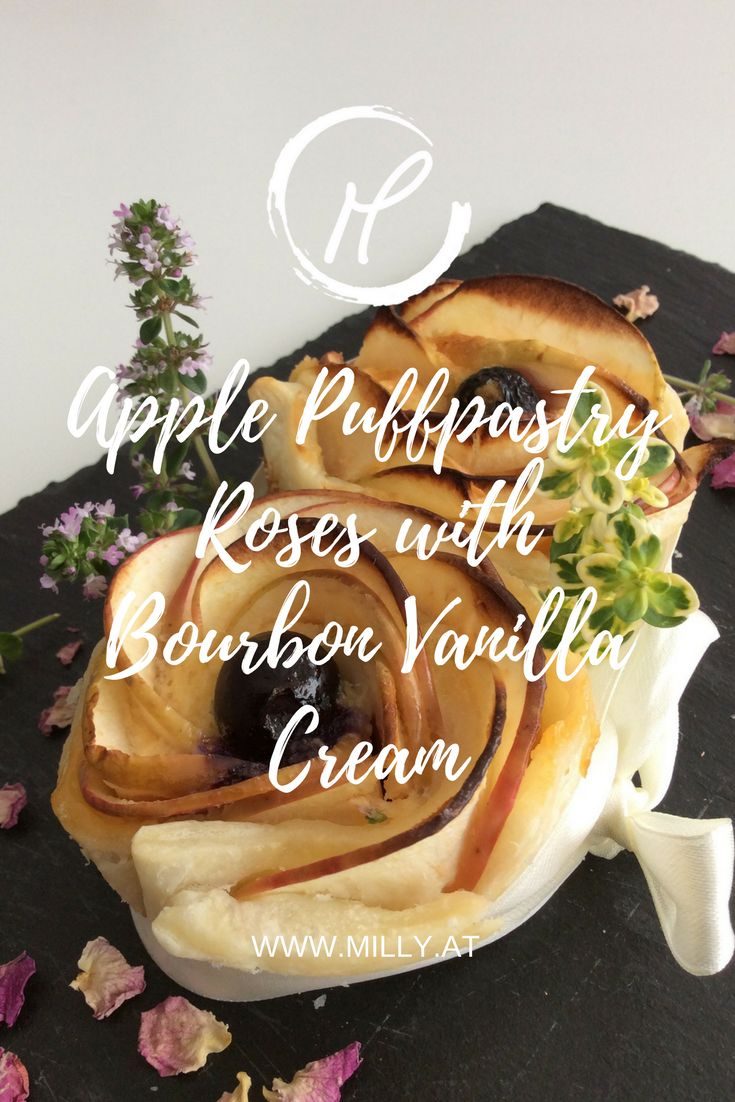 "An apple a day keeps the doctor away!" Considering the many health benefits that apples offer, I tend to believe this saying.
We had 2 apple trees in our garden in Luxembourg. We rarely harvested all of the fruit they were carrying, much to the pleasure of the birds in winter. Sometimes though the trees would carry so much fruit, we could make liters and liters of apple juice or "Fiitz", as the Luxembourgers call it. The apples were rather sour, which made them ideal for cooking or baking. My preference for sour apples in the kitchen stems for those trees I believe 🙂
Apples are not just tasty but also very healthy. They contain many vitamins (mainly in their peel) and minerals and they reduce the risk of developing certain afflictions such as cancer or diabetes. I do think it is a pity though, that many historic varieties of apples had to make way for the cultivation of a select few during the last decades. However times are shifting and these old varieties are up and coming, which makes me very happy.
I recently saw a video online, where someone makes these apple roses. I was so impressed by the esthetics of these little cakes, I wanted to try the technique, although I did use my own recipe.
First prepare the vanilla cream – it is the same recipe I use for my rhubarb pie, just in smaller amounts. Mix the egg, cream, vanilla sugar and sugar with a mixer and set aside, as to give the sugar time to dissolve. Then wash the apples and cut them in half. Remove the seeds and cut into very thin slices. Then add some lemon juice, so the apple doesn't turn brown. As opposed to other recipes, I did not soften the apples in the microwave, but used them raw.
Then cut the puff pastry in 7 equally big stripes (I got seven, although it depends on the size of your dough). Place the apple slices on the top half of the pastry and fold the bottom half over (I also did not use jam). It is quite hard to explain, so I suggest watching the video. Then roll the whole strip into a rose.
Put the apple-roses in a greased and floured muffin tray and at the end add a dash of vanilla cream. If you like you can add a blueberry at the center as decoration. Bake the covered roses at 180°C for 30 min, and then another 15 min uncovered. Et voilà 🙂
Have you tried this recipe? I would really enjoy comments or feed-back! Also register for the newsletter, and don't miss any more recipes!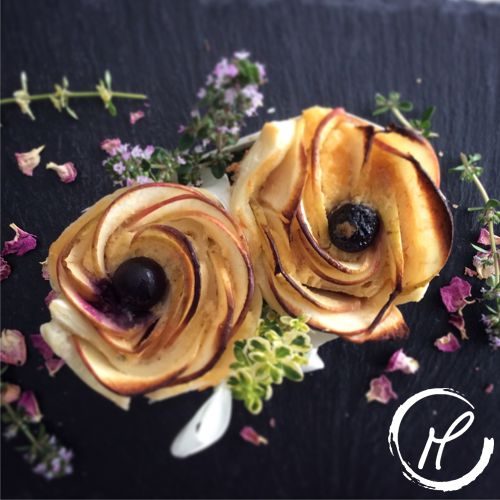 Shopping list:
1 pack of puff pastry
2-3 sour apples
Juice of 1 lemon
1 egg
1 packet of bourbon vanilla sugar
30 ml cream
30 g sugar
Blueberries for decoration