Tomato Chutney & Wild Garlic Poori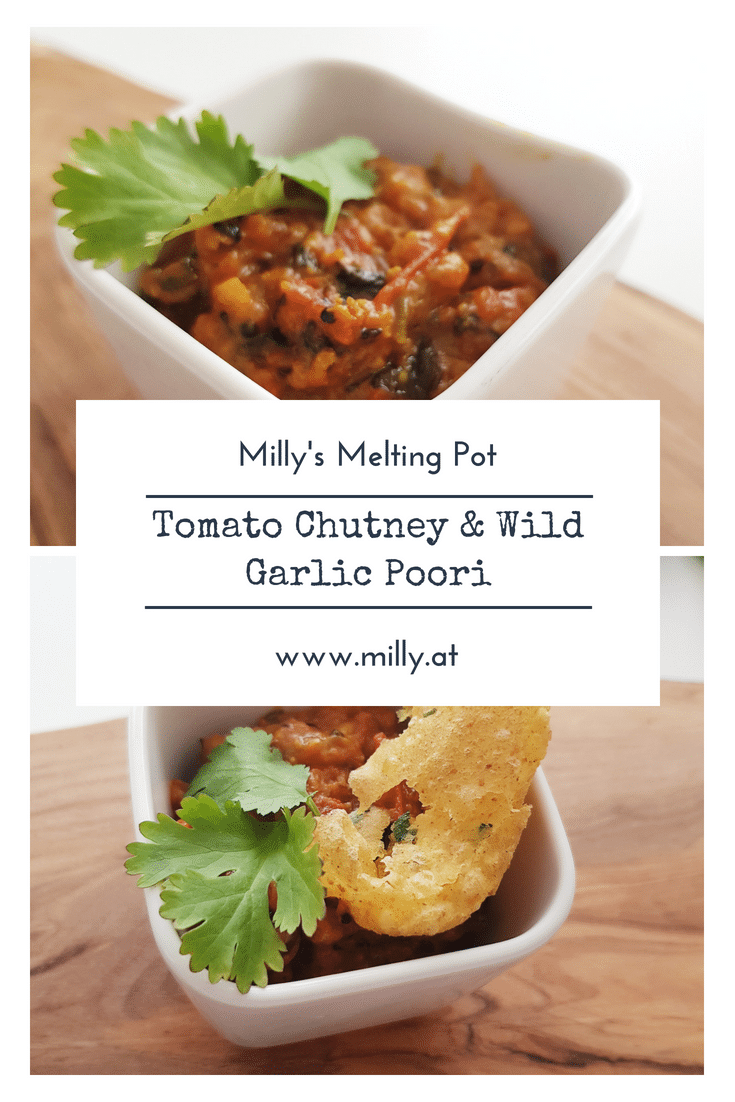 Last week when I visited the farmer's market here, I saw some of the first wild garlic! I decided then and there that I will try and combine the best of austrian and indian cuisines! Instead of using fresh coriander or other herbs in the poori dough, I used wild garlic. I also added some wild garlic to the tomato chutney – so this recipe is wild garlic all around 🙂 Alternatively, you can use coriander, mind and/or basil in this recipe – whatever your heart desires (and the season allows for!)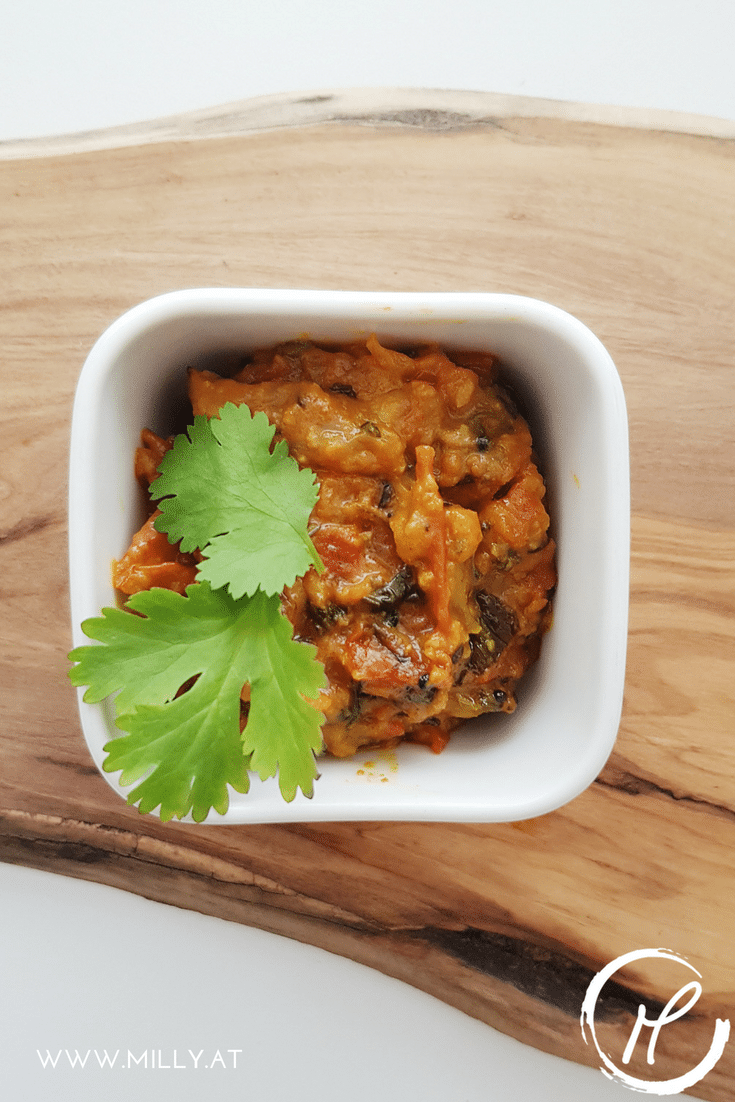 When I visit my grand-mother in Canada, she usually makes us pooris for breakfast! An absolute highlight for me – holiday breakfast! Pooris are a type of indian flatbread that is made without yeast, similar to chapatis. However as opposed to chapatis, pooris are usually deep fried! And if you are a skilled poori maker, then they will puff when you fry them (as a woman you are now eligible for marriage – I am still unmarried:) You can eat pooris with pretty much anything: plain pooris go well with jam or other spreads. Masala pooris or spiced pooris can be eaten with chutney or even a good old potato curry!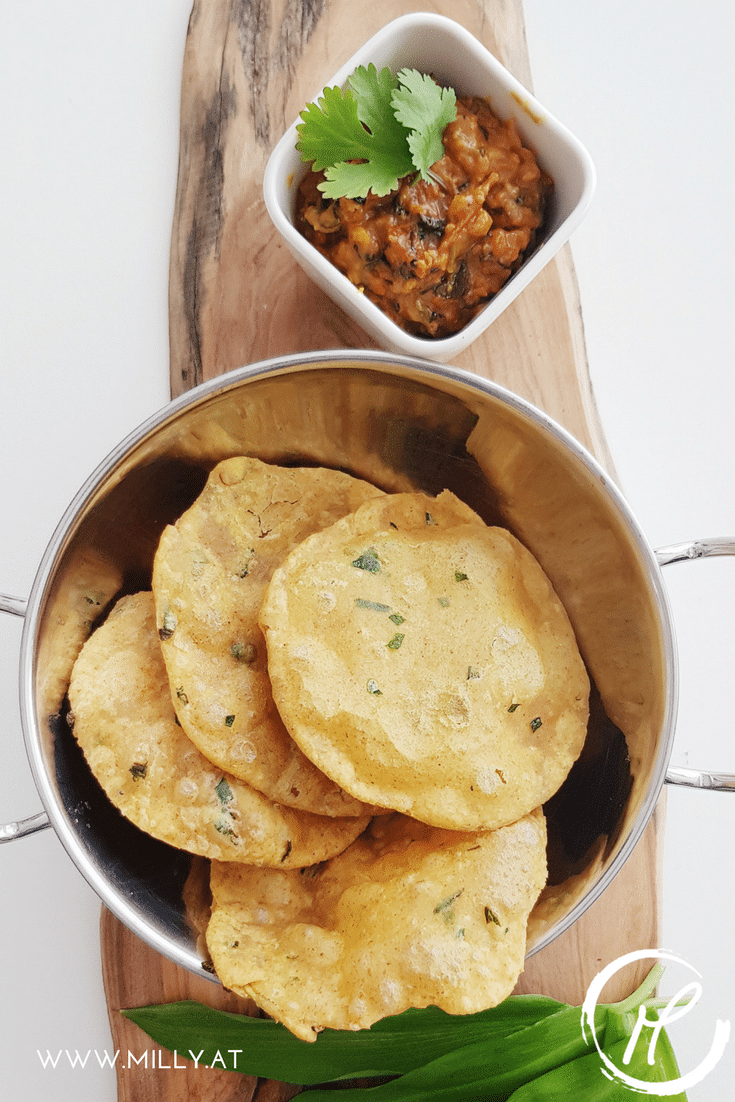 First mix all the ingredients for the pooris and knead the dough. Brush with some oil, pack in some foil and set aside. Then start preparing the chutney. Heat the oil, and roast the mustard and cumin seeds (the oil should be quite hot, so the seeds hop around). Add the finely chopped shallots and let them turn golden brown. Then add the garlic, the chopped herbs and the lime juice. Let this fry for 1-2 minutes. Now add the chopped tomatoes and the spices and let this simmer for 10-15 minutes. Enough liquid should have evaporated so the tomatoes develop their full flavor and for the chutney to become a thick paste. If you like, you can add 1 Tsp of sugar – this won't sweeten the chutney, but it will make the flavors pop!
Now split the poori dough into 6-8 little balls. Press/flatten slightly with the finger and roll out into circles on a oiled surface. They should be about 1-2 mm thick.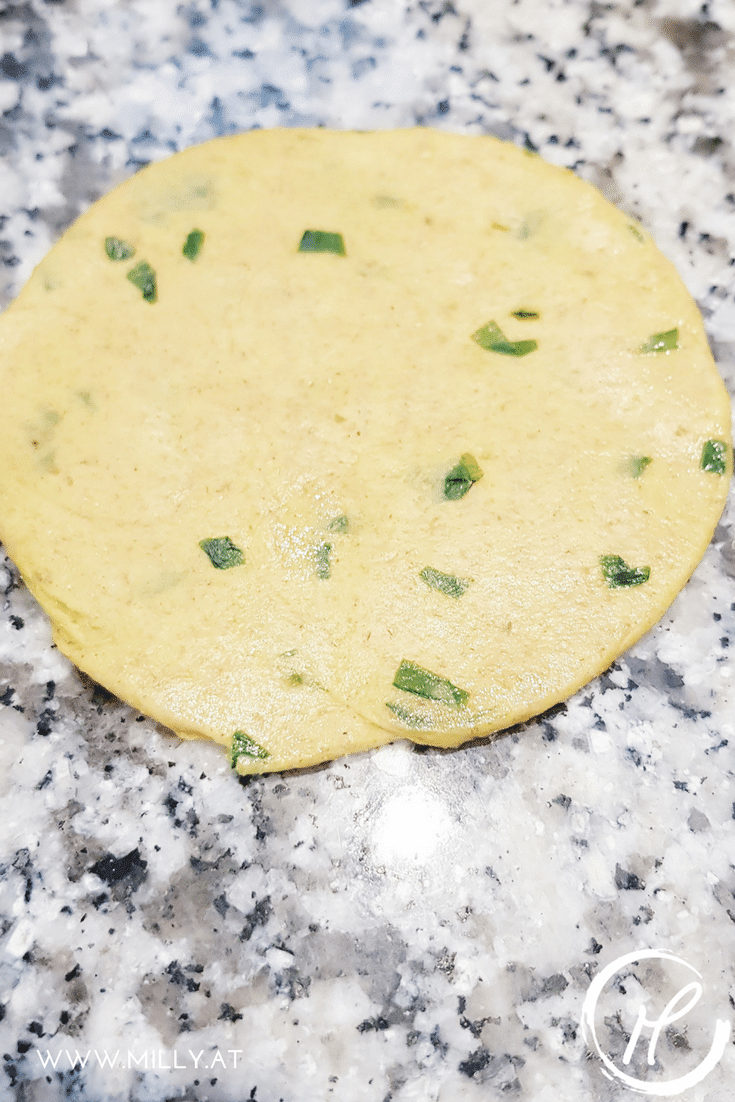 Now fry the dough circles in hot frying oil. When the oil has the right temperature and if you rolled out the pooris correctly, then they will puff up! If they don't it's ok too:) Et voilà ! For my Graz readers: if you want top learn how to make dishes like this on your own, then check out my cooking classes!
If you can't drop by the blog all the time, just follow Milly's Melting Pot on Facebook, Instagram or Pinterest and never miss a recipe! Or just register for my weekly newsletter and get everything delivered straight to your inbox!
Shopping list (ca 200 gr chutney & 6-8 pooris)
Poori

50 gr flour
50 gr whole wheat flour
some salt
Neutral oil
1 handful of chopped wild garlic
1/2 Tsp turmeric
1/2 Tsp ground cumin
1/2 Tsp ground coriander
1/4 Tsp chili powder
1/2 Tsp ginger paste

Chutney

1 Tbsp ghee/ oil
1 Tsp dark mustard seeds
1 Tsp cumin seeds
1-2 finely chopped shallots
1 Tbsp garlic paste (alternatively 3-4 chopped cloves of garlic)
1 handful of chopped wild garlic, coriander and mint each
Juice of 1-2 limes
2-3 chopped tomatoes
1/2 Tsp turmeric
1/2 Tsp ground cumin
1/2 Tsp round coriander
1/4 Tsp chili powder
Salt & pepper to taste
1 Tsp sugar