Mountain cheese soup, bread chips & lemon-curcuma chutney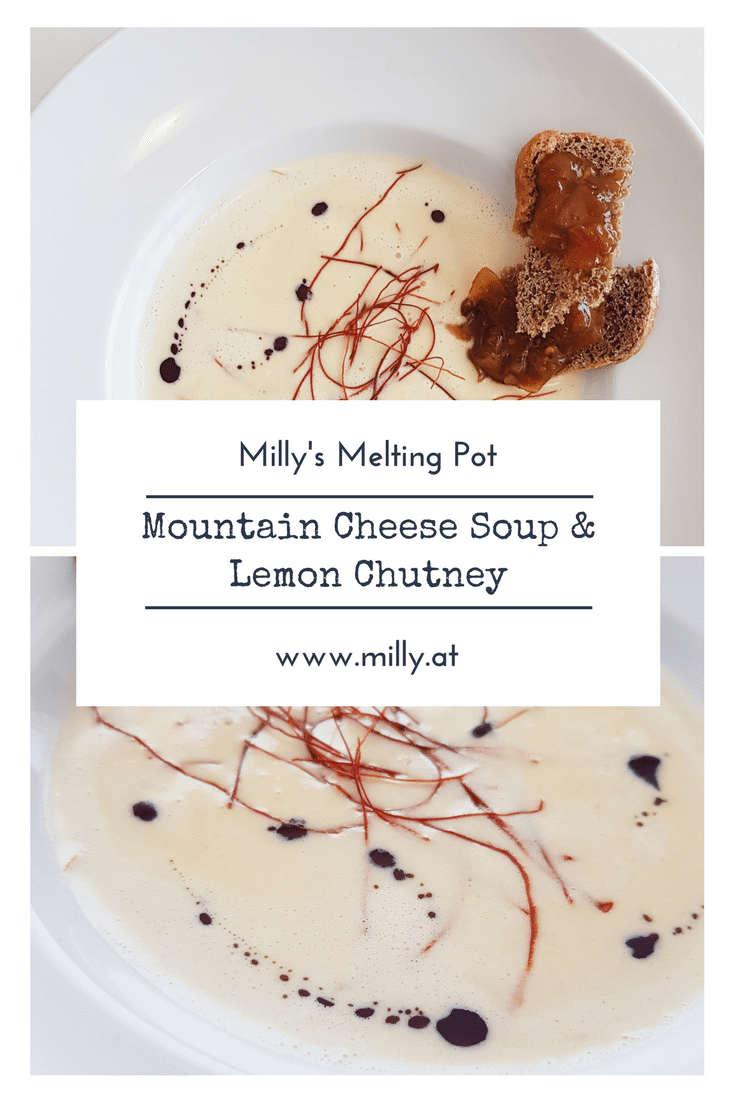 I try to develop my recipes with a strong fusion touch! With that in mind I published my recipe for pooris with a tangy tomato chutney last week, and this week, I give you the recipe for a hearty mountain cheese soup! I only had my first mountain cheese soup this winter, after having lived in Austria for 10 years now! But I was so stunned by how tasty it was, I will make it at home more often!
The evening before, peel your lemons with a vegetable peeler, making sure not to have any of the white skin on the zests – otherwise the chutney will be bitter. Chop up the zests into small pieces and remove the white skin from the lemon. Add the lemon filets to the zests, generously add salt and 1 Tbsp of turmeric/curcuma. Let this mixture soak over night.
The next day, pour this mixture into a pot and add the sugar (or honey). In a next step add the lemon juice, vinegar, garlic paste, ginger paste, ground coriander, chili and turmeric. Let simmer on low heat until a the mixture is a thick paste. Salt to taste.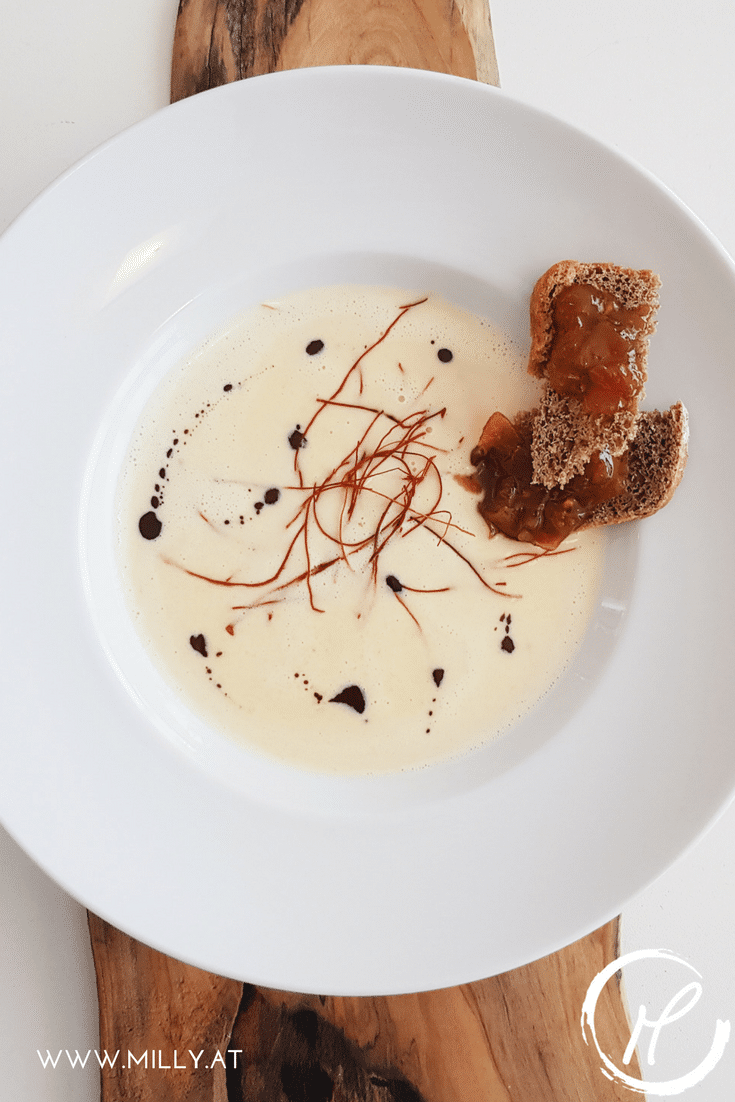 Befor starting the soup, put the bread slices into the oven at low temperature (ca 80°C) for them to dry and become crispy. Then start the soup: chop the shalottes and fry at low heat with some ghee. Add the beef broth,wine, cream and creme fraiche and let simmer. In the end add the parmesan and the grated mountain cheese to melt. The cheese will make the soup crumbly, you can quickly give it a spin in the mixer if you like.
Spread some chutney on the bread chips and serve with the soup. If you like, you can add a dash of pumpkin seed oil as a colourful contrast. Et voilà 🙂
If you can't drop by the blog all the time, just follow Milly's Melting Pot on Facebook, Instagram or Pinterest and never miss a recipe! Or just register for my weekly newsletter and get everything delivered straight to your inbox!
Shopping list (3-4 portions)
Chutney

2 untreated lemons
Salt
1 Tsp turmeric/curcuma
2-3 Tbsp sugar/honey
2-3 Tbsp lemon juice
2-3 Tbsp white wine vinegar
1 Tsp garlic paste
1 Tsp ginger paste
1 Tsp ground coriander seeds
1/2 Tsp chili powder
1/2 Tsp curcuma
Salt to taste

Thin slices of dark bread
Soup

2 shalottes
1 Tsp ghee
500 ml beef broth
100 ml white wine
100 ml cream
100 ml creme fraiche
100 g ground parmesan
100 g ground mountain cheese
Salt, pepper, nutmeg