Asparagus Tarte & Lime Hollandaise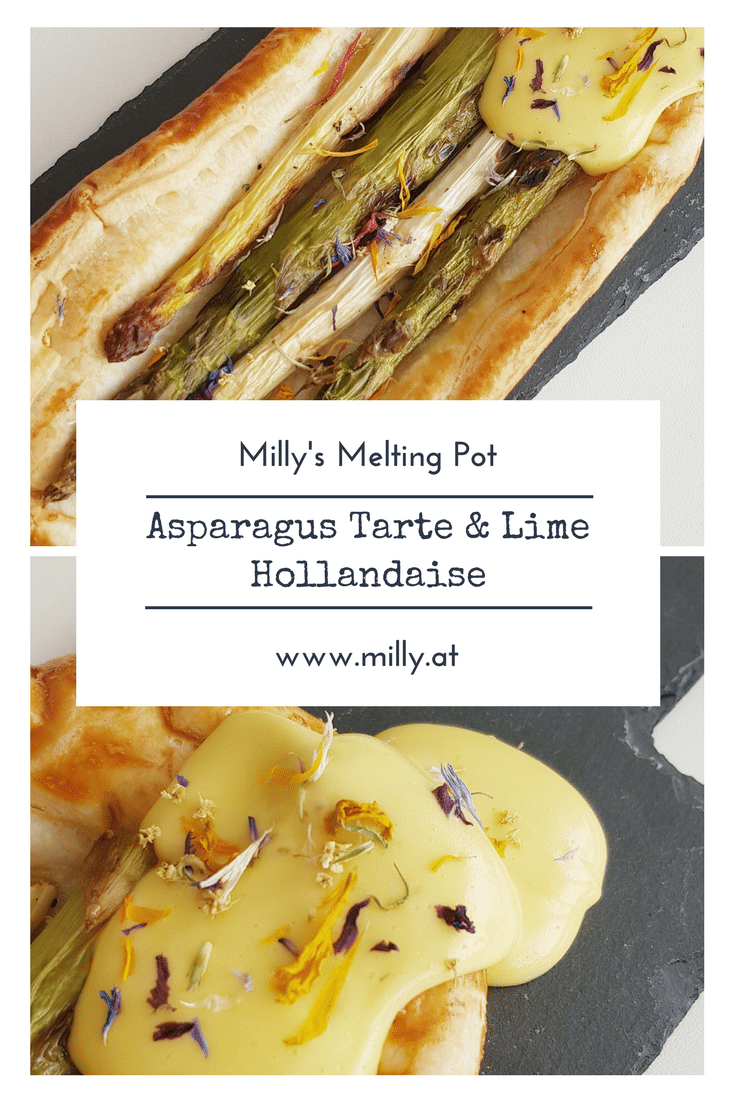 If you need a quick starter, this asparagus tarte is ideal! It is prepared in 10 minutes ( unless you decide to make the puff pastry from scratch) And while the tarte bakes in the oven, you can quickly whip up a hollandaise!
It also took me a long time, before I dared to make a hollandaise for the blog, but in the end it is not as complicated as you may think. However, I did still need 3 tries until I got it right – the first time everything was to runny, the second time I got scrambled eggs! The third time was the charm:)
Before you start with the tartes, fry the cleaned asparagus on very high heat for a few minutes and season to taste! I used plain salt and this Cholula chili sauce. Then while the asparagus cool a little bit, cut the puff pastry in large rectangles ( 1 pack of puff pastry gave me 3 large rectangles). Put the asparagus of the pastry, flip over the edges and paste with egg yolk, so the pastry bakes to become golden brown! Let it bake at 180°C or less for about 10-15 minutes!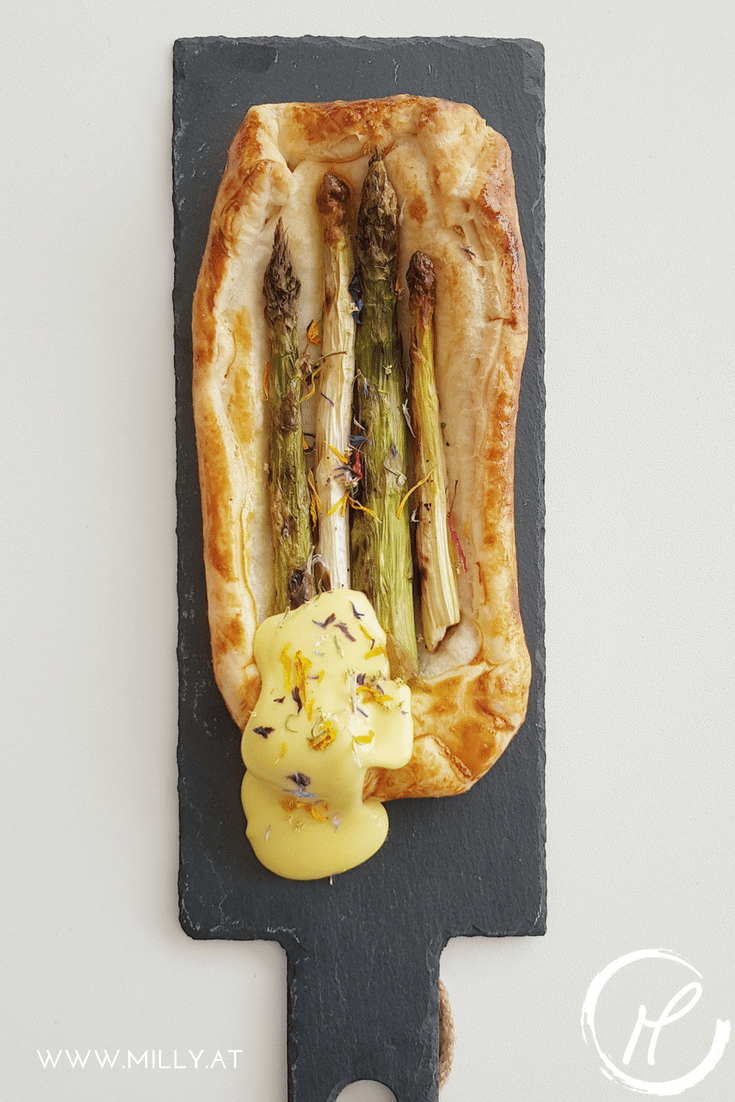 While the tartes bake, prepare the hollandaise: in stead of using pure lemon or lime juice, I used the peels and stems of the asparagus to make a infusion with lime juice, white wine vinegar, salt and black pepper corns. I let this mixture reduce to about 2 Tbsp of liquid and used this with the egg yolk to make the hollandaise. Whisk the yolk and the lime infusion in a bowl over a simmering water bath. The water is supposed to boil fully, as otherwise the bowl will heat up too much and the egg will cook. Now add the melted butter in a small and steady stream while continuing to whisk vigorously! A fine emulsion should form and the mixture should thicken! Don't add too much butter, as the mixture will start separating. Now add some hollandaise to the tarte and serve hot!
There are many tutorial videos on Youtube, that show you how to make a hollandaise. I like this one from Jamie Oliver! Funnily enough, some chefs try and show you a way, where the hollandaise will always work – I thoroughly failed:)
If you can't drop by the blog all the time, just follow Milly's Melting Pot on Facebook, Instagram or Pinterest and never miss a recipe! Or just register for my weekly newsletter and get everything delivered straight to your inbox!
Shopping list (ca 3 tartes):
1 packet of puff pastry
1 bunch of asparagus
2 limes
2-3 Tbsp white wine vinegar
1 Tsp black pepper corns
ca 150-200g butter
Salz