4 fun facts about boiling water!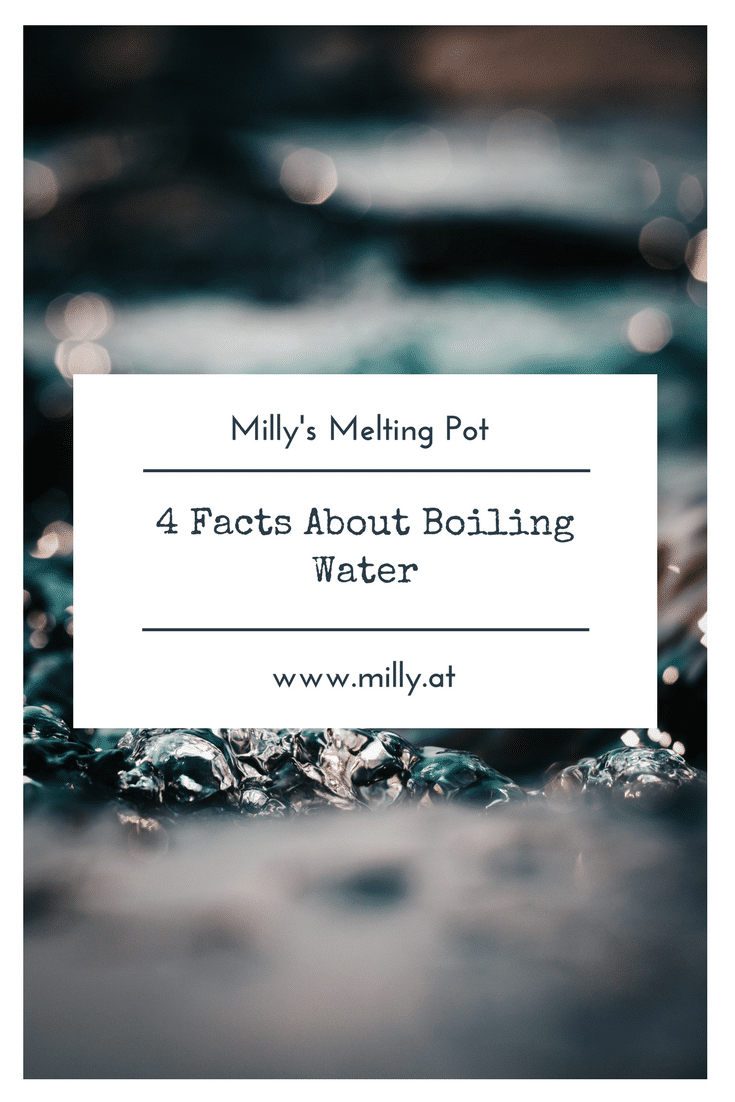 When I am in my kitchen, I usually know exactly how long I need to boil an egg to get the desired result. I visited my sister recently, and I wanted to make soft boiled eggs for breakfast – i failed.. I failed at boiling an egg 🙂 So we were discussing what the reason could be (yes 2 scientists troubleshooting a hardboiled egg #truestory). It turns out that her cooker heats the water slower than mine does, leading to the fact that she actually boils her eggs a shorter time than I do. By the time her water boils, her eggs have already started the cooking process, whereas mine have not yet. Counterintuitive isn't it!
This got me thinking about water – boiling or not – and all the fun/weird information I learned about it when I was studying chemistry. Yes I swear: sometimes my teachers just popped out some facts that now seem logical, but at the time not really! Here are a few fun facts, that might help you understand why we use water the way we do in our everyday lives!
Fact 1: Water is the most common solvent we use – yes, I love buzzwords:)
Yes! Let's start with this one: let's use a word that a lot of people may associate with toxic liquids used in various situations such as acetone or benzene. Water is a solvent – and a very powerful one at that. A solvent is just a liquid that can be used to dissolve and/or dilute something creating a solution. Water can dissolve a variety of different compounds, that's why we use it so much: we use it to wash ourselves or our clothes, because in itself water can already dissolve a lot of dirt. We use it as a solvent for our coffee and tea – it dissolves the special chemicals from the coffee beans or tea leaves and gives us a delicious hot beverage (winkwink #TBBT).
Fact 2: Boiling water is a very efficient disinfectant – or isn't it?
Fact 3: Adding salt to water increases its boiling point and lowers its freezing point.
This one got me for a long time 😀 I read that salt is added to the water while boiling pasta to reduce the cooking time as it increases the boiling temperature. This is only partially true: Yes! Adding salt to water actually increases it's boiling temperature, but only a little. Salt is actually added more for flavor than anything else. Adding salt to water also reduces its freezing temperature, which is why we use salt in winter to defrost the streets and why this stops working when temperatures get too low.
Fact 4: The boiling temperature of water varies according to the outside pressure.
Ok now this one is a bitch! You might have heard that mountain climbers observe that the water boils at a lower temperature or that their food takes longer to cook? Also you might remember that food cooks quicker in a pressure cooker. Also depending on your altitude, you need to boil water longer to kill harmful bacteria? What is the principle behind this? If you are interested in the exact physical details click here.
It all has to do with something called "vapor pressure". Above the liquid's surface, there is always a little bit of that liquid that has evaporated. The higher the temperature, the more vapor you have. At a boiling temperature, the vapor pressure equals the atmospheric pressure. So if you climb a mountain, the atmospheric pressure is smaller and hence the boiling point is reduced (at the boiling point : vapor pressure = atmospheric pressure). When you use a pressure cooker, you increase the surrounding pressure, thereby increasing vapor pressure of the contained liquid and the boiling point of said liquid. I hope that makes sense:) If not, here is a video!
I hope you enjoyed this:) Check out some more articles from the bubbly biochemist here and certainly let me know what you think 🙂 Don't forget to subscribe to my newsletter and get all the news from Milly's Melting Pot!