Braised beef in red wine sauce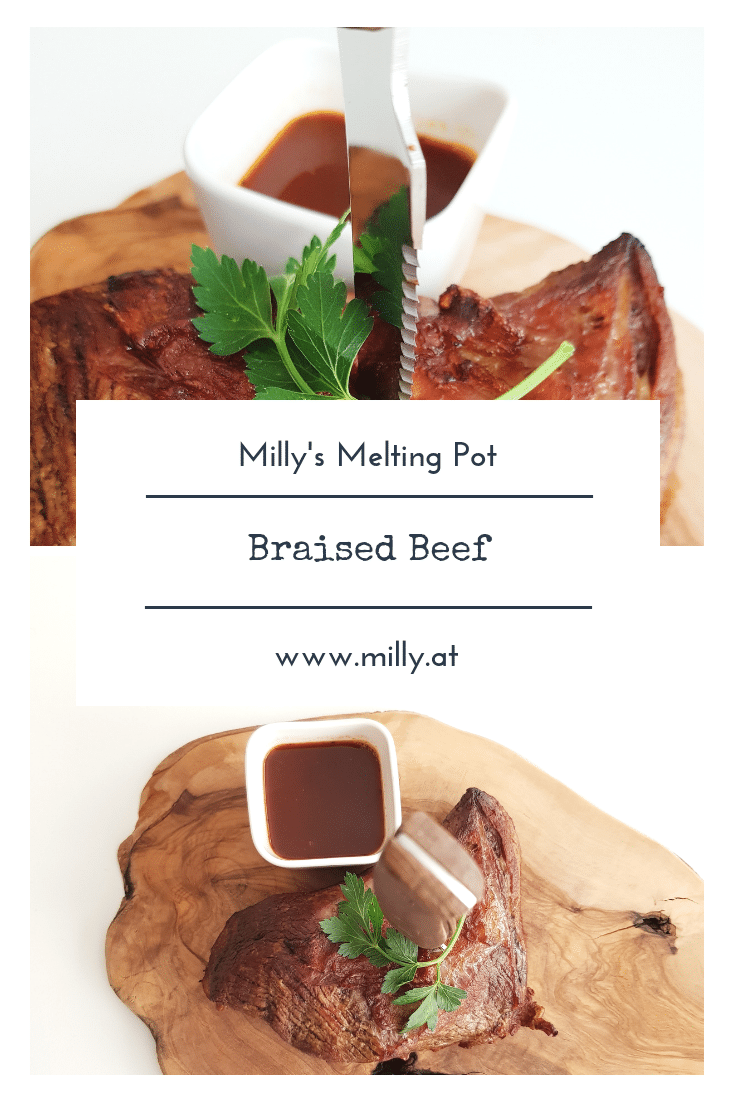 Recently, my wonderful cousin came to visit from Montreal and, knowing me and my passions, she gifted me a most wonderful cookbook from a chef I didn't know till now – Lynn Crawford. I have not read it fully yet, but I can already now recommend it. It is called "Farm to Chef – Cooking Through The Seasons". Since it is autumn here, and I felt like cooking a hearty sunday meal, I stumbled upon a recipe in this book called "Braised lamb shanks with pureed potatoes." Oh I was inspired!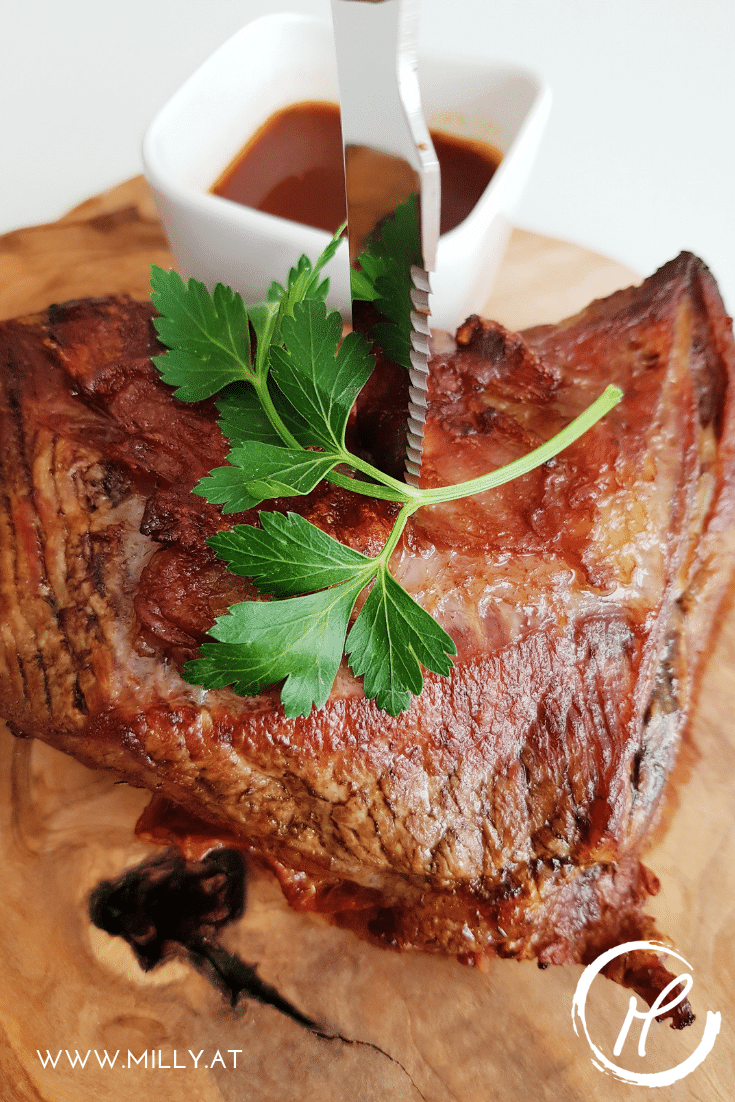 I changed the lamb for beef (as it was on sale:) and also slightly adapted the composition of the sauce (MORE WINE!!!!!). The result was a soft and tender beef roast with a mindblowingly delicious sauce. So thank you Lynn Crawford!
This recipe is far from complicated, it just takes some time (and some love). First I chopped up the onion, shalottes, garlic, carrots and celery and prepared ll of my ingredients. Fry the meat over high heat for a few minutes on each side to get some colour on the meat and a base to make the sauce. Remove the meat from the pan and add your onions, shallots, garlic, carrots and celery. Let these fry till they are tender. Add a dash of stock if they get too dark. Then add the wine let everything boil for a few minutes. Try and scrape all the brown bits from the bottom of the pot. Add the tomatoes, the stock and the herbs. Return the meat to the sauce and put everything in the oven. Let it braise in the oven at 160°C fro 2 hours.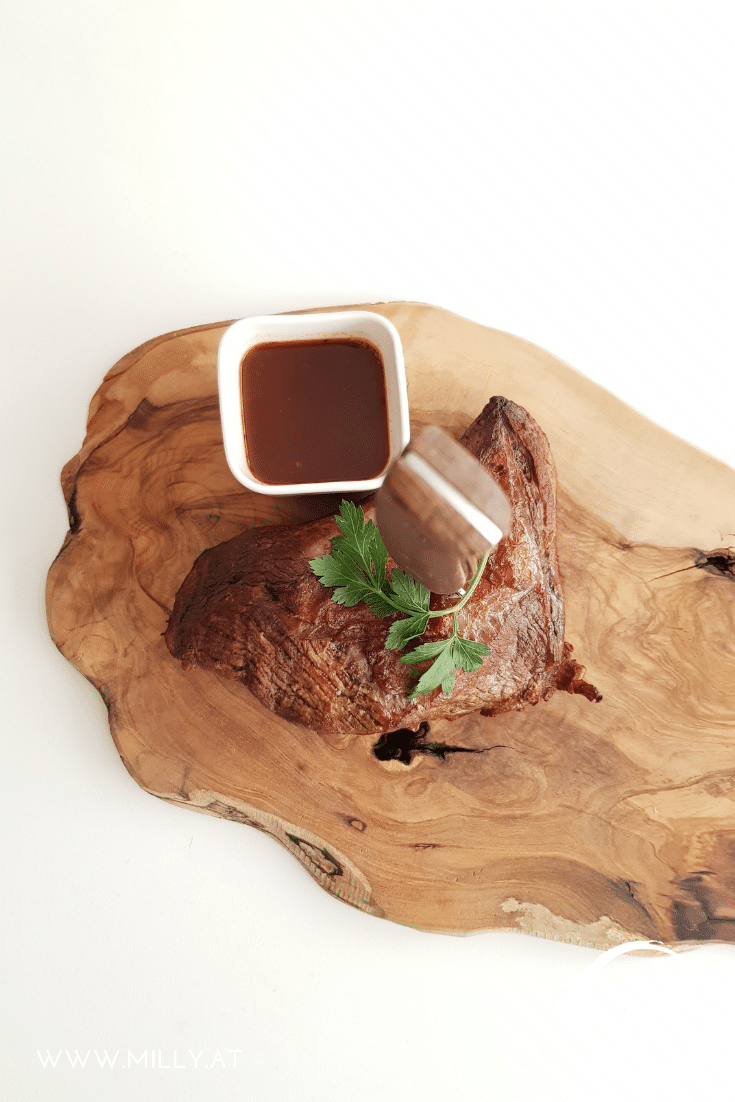 When the meat is done, remove the meat from the pot and transfer the sauce to a pot, making sure you sieve all the vegetables out and only retain the liquid. Bring to a boil and reduce the liquid until it thickens slightly. Add cold butter and season with salt and pepper only at the very end (I didn't even need any salt). Serve with a buttery potato puree for heavenly goodness! Et voilà 🙂
If you don't have time to pass by the blog every day but you want to read the new recipes and articles then just follow Milly's Melting Pot on Facebook, Instagram or Pinterest! Or register for the newsletter and get everything sent right to your inbox! And make sure to let me know how it went if you cook this recipe!
Shopping list (for 2-3 people) :
ca 1-1,2 kg beef (I used tail of rump, but you can use any piece that can be cooked for a long time. Cheaper cuts work well!)
Olive oil
250 g of diced carrots
250 g of diced celery
4 chopped shallots
1 chopped large onion
4-6 cloves chopped garlic
500 ml (or more) good dry red wine (the better the quality, the better the sauce)
2 cans of peeled whole tomatoes
1 l beef stock
2 twigs of rosemary
2 twigs of thyme
3 bay leaves
1 large Tbsp cold butter
Chopped flat leaf parsley
Salt and pepper to taste
*This recipe contains affiliate links ! I will not recommend anything I do not use myself and that I am not 100% convinced of. So I may get a commission if you decide to buy, but my opinions are my own.