Gastbeitrag: Plateful Flavors – Garnelen Eintopf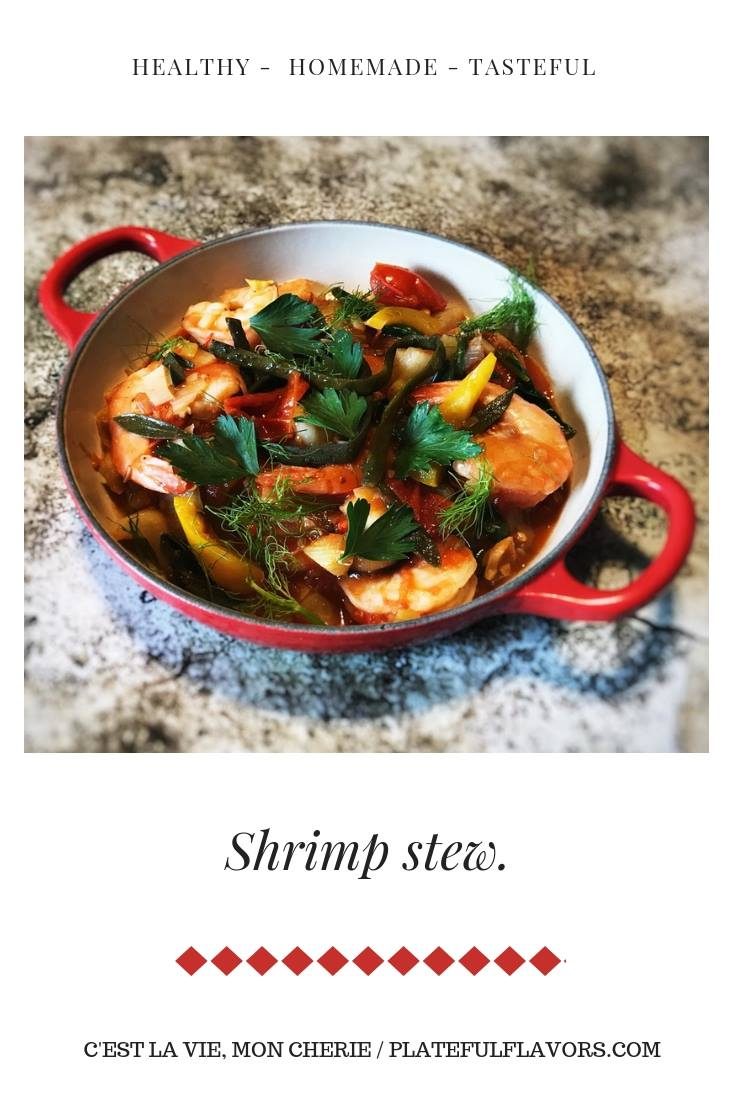 Für meinen allerersten Gastbeitrag möchte ich dir Sonja, eine Foodbloggerin aus Luxemburg, vorstellen. Heute teilt sie ihr Rezept für einen mediterranen Garnelen Eintopf mit uns! Mehr leckere Rezepte findet ihr auf ihrem Blog "Plateful Flavors".
(Der Beitrag wurde im originalen Englisch belassen)
---
My name is Sonja, and I am a Belgian housewife, living in Luxembourg together with my husband and our two teenage boys.
I am passionate about cooking and trying out new recipes which I find in magazines, cookbooks and on other blogs. I try them out, but not without making some changes so I can tailor them to fit my taste more, to make them a bit different.
I love creating healthy and nutritious meals with seasonal produce. I really love salads in all colors and flavors, and always make huge bowls of them. That's what inspired me to call my blog "plateful flavors. I absolutely love vegetables. I always get super happy from the many different colors and the endless ways to combine and serve them.
Through my blog I hope to inspire people to incorporate more vegetables in their daily meals. Homecooked meals can be healthy and look pretty at the same time, and really do not take that much time to prepare.
---
The inspiration for this shrimp stew comes from the classic Bouillabaisse, a traditional Provençal fish stew originating from the port city of Marseille. It is worth noting that bouillabaisse is traditionally a humble Mediterranean fisherman's stew. The fennel, olive oil, fish and shellfish are local. I use only shrimps in my recipe, and do not serve it as a soup, but rather as a main dish, that can easily be accompanied by some rice, pasta or couscous if you'd like.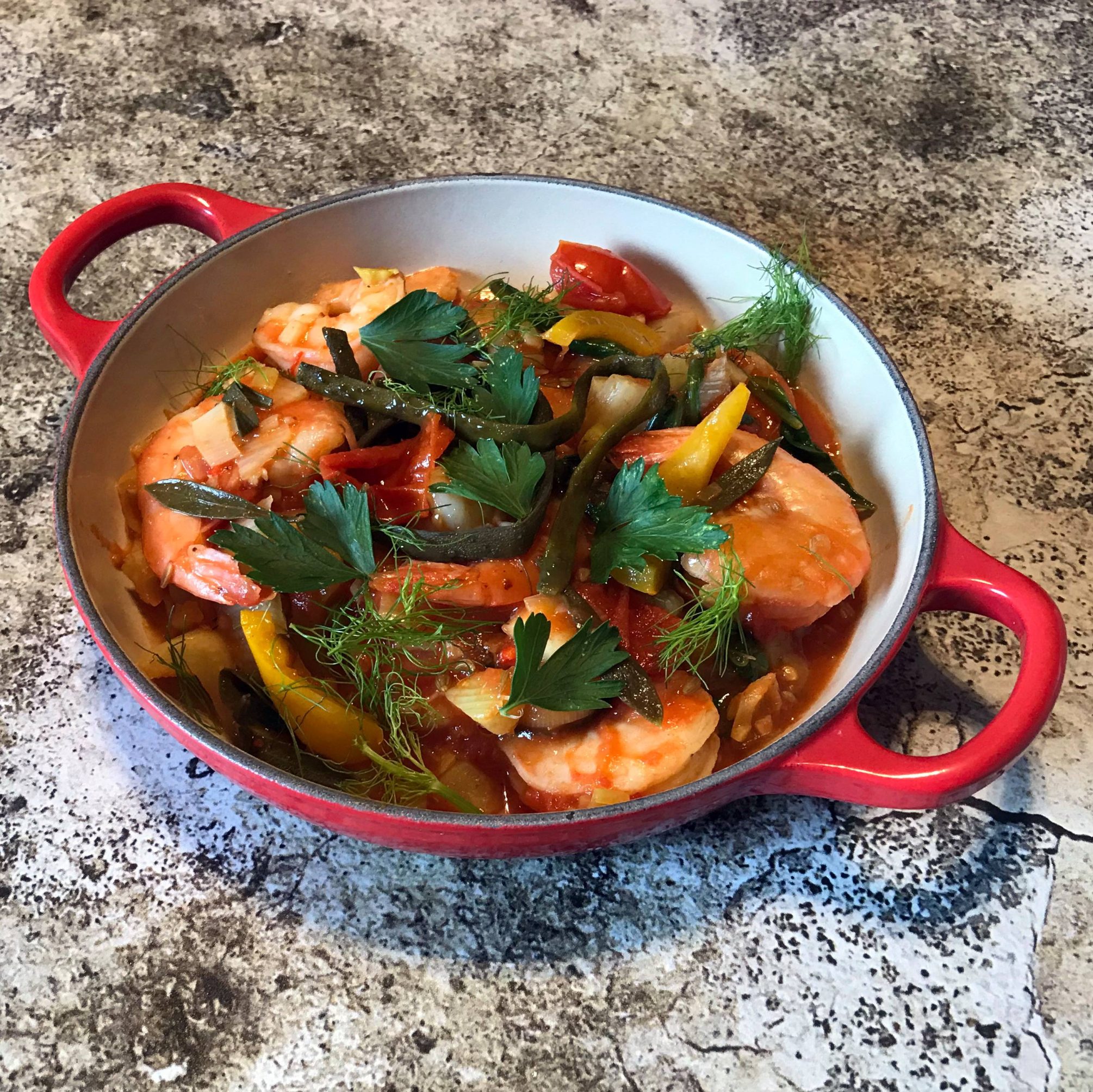 Method:
Finely chop the onion, garlic and chili pepper.
Chop the tomatoes into coarse pieces.
Cut both peppers into fine strips and the leek in small rings.
Cut the fennel into cubes.
Heat the olive oil over medium heat in a heavy bottomed pan. Add onion, garlic and chilli pepper, along with the fennel seed and sauté over medium heat until tender and fragrant.
Add the leeks, fennel and pepper strips and and slowly sweat them until tender but not browned (about 20 minutes).
Add the tomatoes, the leaves of the sea fennel, thyme, marjoram, saffron, and chili flakes and the fish fond. Turn up the heat until the fond begins to boil. Cook until the liquids are reduced by about half.
Add the shrimps and let them cook for five minutes, until they are done.
Now stir in baby spinach until it has shrunk.
If the moisture is not completely evaporated, you can possibly thicken the sauce a bit. I used some homemade dried tomato powder, which intensifies the taste and does not add extra carbohydrates. Of course you can also use corn starch or another binding agent.
Season with salt and pepper and if desired some extra chili flakes.
Finish the dish with some fennel green, flat parsley and possibly some sea spaghetti.
Ingredients (4 portions):
700 gr medium shrimp (with the head) or replace some with langustines of gambas
2 fennel bulbs
8 ripe tomatoes (or replace 2 tomatoes with cherry tomatoes)
1 red onion
1 red chili pepper
1 leek, white part only, thinly sliced
4 cloves of garlic
150 gr of fresh baby spinach
Handful of sea fennel
1 yellow pepper
1 red pepper
100 ml concentrated fish stock (I reduced 200 ml of fish stock until about half remained, for a concentrated flavor)
1 Tsp Fresh Thyme
1 Tsp Fresh Marjoram
½ Tsp Saffron Threads
½ Tsp chili flakes
1 Tsp fennel seed
Freshly ground black pepper
Himalayan salt
Olive oil
---
Wenn du keine Zeit hast jeden Tag am Blog vorbeischauen kannst, du aber immer die neuesten Rezepte und Artikel lesen willst, dann folge Milly's Melting Pot einfach auf Facebook, Instagram oder Pinterest und verpasse nie ein neues Rezept! Oder melde dich zu meinem wöchentlichen Newsletter an, und bekomme alles bequem in deine Inbox geliefert!