3 things you didn't know about fats in your body!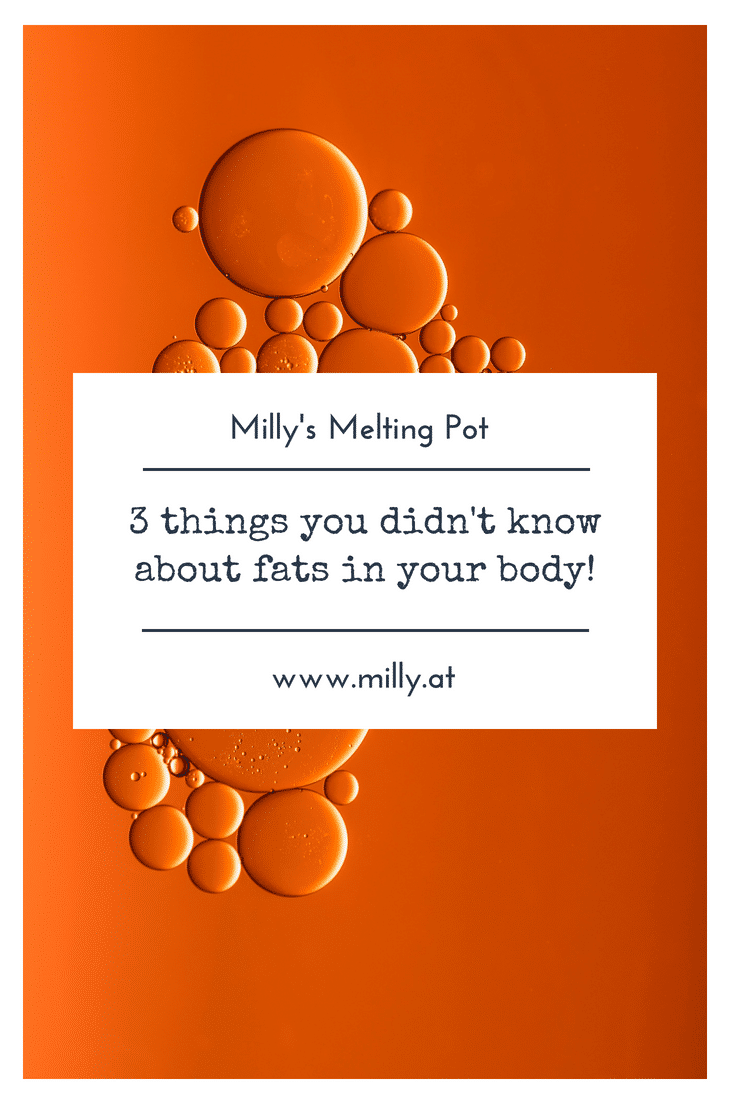 Some of you may know, some of you may not so let me introduce myself again: I am Milly, and besides loving food with a passion that borders on crazy, I am also a biochemist by training. Not only that, I actually worked in research and studied lipid metabolism in yeast and humans – which means I studied fat metabolism in these two organisms. Qualifications: check 🙂
---
Not convinced? Check out my most recent publication here!
---
I know it is sometimes difficult to follow and understand research results and articles these days – even as trained scientist, I find it is a lot of information. But I also think it's important to know a few things about your body, so you can make the best possible decisions! That's why you have me – bubbly biochemist and scientific translator extraordinaire! And in that spirit I wanted to share some info with you guys about the fats in your body and the fats that you eat through your food.
I started writing this article and realized that this is either going to be a very long article, or I can split it up. I decided I will do the latter! If you like what you read, and if this subject interests you, then subscribe to my weekly newsletter and receive my brand new E-Book ! The E-Book has tons of useful information on the following subjects:
Fatty Acids: what are saturated, (poly)unsaturated, trans or omega fatty acids?
The difference between fats and oils?
What is cholesterol and why is it "bad"?
What role does adipose tissue play in our hormonal regulation?
Fat is not the enemy: how to incorporate healthy fats in your diet!
and even some brand new recipes to help you incorporate healthy fatty acids in your diet
So to start off, I will focus the main types of fat that play a role in your body: storage fats (or storage lipids) and membrane lipids.
(Just a small reminder: this isn't supposed to be a textbook, just a general and simplified introduction to the role of fats in your body. I added two 2 biochemistry and molecular biology books as references, as I considered the information in this article established (textbook) knowledge. Feel free to get in touch, if you are interested in more reading material)
What is fat?
Next to proteins and carbohydrates, fat is one of the essential nutrients required for a smooth and healthy metabolism. The body requires fat to build every cell in your body, store energy, produce certain hormones, transport fat soluble compounds throughout your body and in general to ensure a healthy metabolism. However, fat does not equal fat. We see many different types of fat in our daily lives: liquid fats or oils, such as olive oil or almond oil; solid fats such as butter. We also associate the word "fat" with increased body weight.
In our body though, fat plays many different roles: one of which is to serve as energy storage, another is to serve as a structural component for our cells and a third is to serve as a signaling molecule to transport information around the body! In this article I will focus on the first two!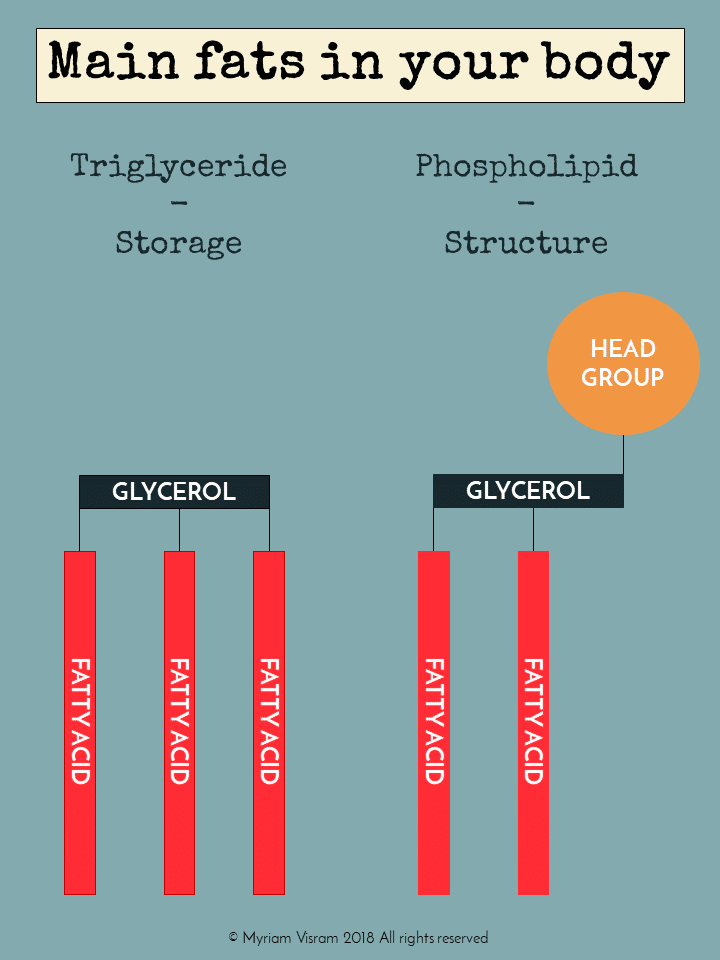 What are storage fats?
Essentially fat, as we instinctively understand it, is actually a molecule called triglyceride. You can imagine this molecule in the shape of a trident (but without the pole!). The backbone of the "trident" is formed of a molecule of glycerol, whereas the 3 forks represent 3 fatty acids, attached to the glycerol backbone. The role of triglycerides is mainly to store energy contained mostly within its 3 fatty acids. However other metabolic roles include the transport of fat soluble vitamins A, D, E and K or the supply of fatty acids to the body.
---
Additional info: Why sequester fatty acids in this way? Wouldn't it be easier to just have them readily available? Actually not! Fatty acids and certain lipid intermediates can become toxic at high levels. This phenomenon is termed "lipotoxicity" and can be prevented by segregating fatty acids amongst others into the more chemically inert triglycerides.
---
Have you ever tried to mix oil and water? Well the same situation occurs in the tiny cells: the cells needs to separate the triglycerides from the rest of the cells interior as these two can not mix. That's why fats are stored as triglycerides in little reservoirs called "lipid droplets", as fats are not water soluble, they are highly water repellant (hydrophobic).
Lipid droplets are very dynamic and can react to the cell's or organ's need for energy. If the cells or the tissue is supplied with enough energy (for example if you have plenty of food), then more fat is produced to store excess energy. If the cells or tissue require energy (for example during exercise or fasting), then fat is broken down (or oxidized) to supply the required energy.
Although most cells in your body store a small amount of fat, your body has tissues specialized in fat storage, such as adipose tissue. Beside storing your excess fat, adipose tissue also serves as a perfect insulator for your body. However this is not it's only role – adipose tissue is also involved in the production of many hormones (for more info, check out the ebook!)
Short version: Your body stores energy in the form of fat, more precisely in the form of triglycerides, mostly within specialized adipose tissue. Adipose tissue doesn't just store fat, but is involved in the regulation of fat metabolism by producing certain hormones!
What are "structural" fats?
As opposed to storage fats, structural fats play a major role in each and every cell in your body. For simplicity, I will refer to structural fats as phospholipids, although there are other types of structural fats that play a role too. Phospholipids are the building blocks for every cell's membrane. Membranes are important as they shield the cell's fragile interior from what happens outside of the cell – similarly to our skin that protects our body's interior from the outside world.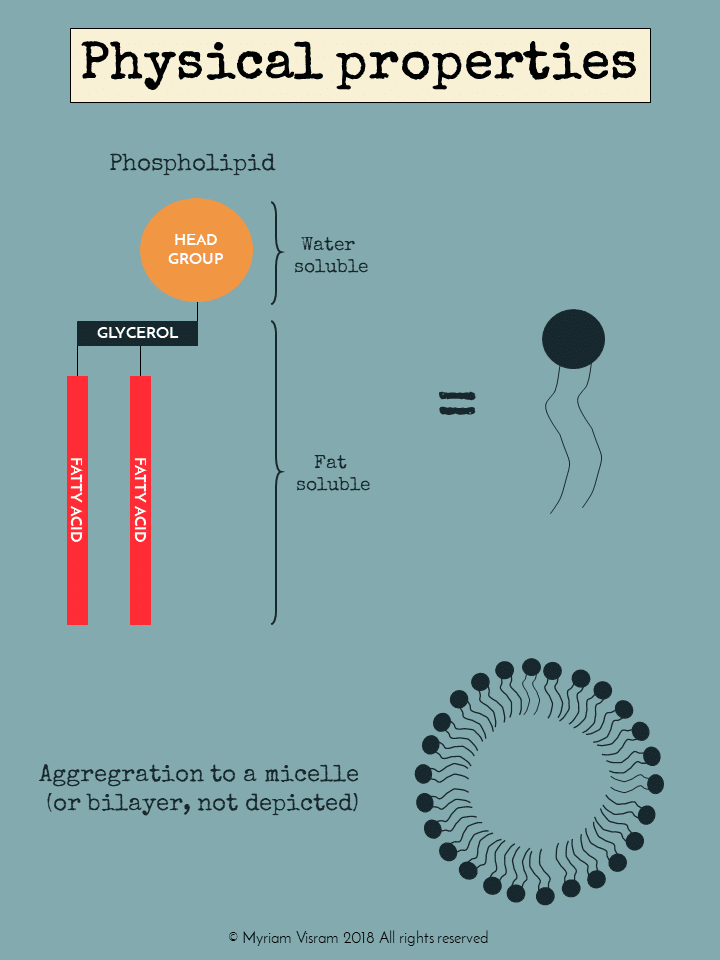 Similarly to triglycerides, phospholipids contain a glycerol backbone and 2 fatty acids. However, instead of a third fatty acid, a phospholipid contains a phosphate head group, making the molecule partly water soluble. The phosphate head can mix with an water, whereas the fatty acid "tail" is hydrophobic. How does this work? This is an essential aspect to how cellular membranes function – phospholipids SPONTANEOUSLY combine to form a bi-layer (not depicted here) or even a micelle, as they try to shield the hydrophobic tail from the water environment.
What fatty acids are fused to a phospholipid majorly influences their properties in a membrane. Ever heard of unsaturated fatty acids? Or Omega-3 fatty acids? More information on that subject in my E-Book!
Fats are an essential part of a healthy life style and a healthy body. Food such as avocados or oily fish contain tons of nutritious fats and are very healthy! Even if from a calorie point of vue, these foods are very rich, they do even help you lose weight by regulating your fat metabolism in a healthy way!
Did you like this article? Then register for the newsletter and receive a sequel that will show you what fats and oils are best in your diet!
Lodish H, Berk A, Kaiser CA, et al. Molecular Cell Biology. 6th edition, W. H. Freeman and Company; 2008.
Horton HR, Moran LA, Ochs RS, Rawn JD, Scrimgeour KG. Principles of Biochemistry. 3rd edition, Pearson Education