Luxemburgish "Achtchen" with Creme Patissiere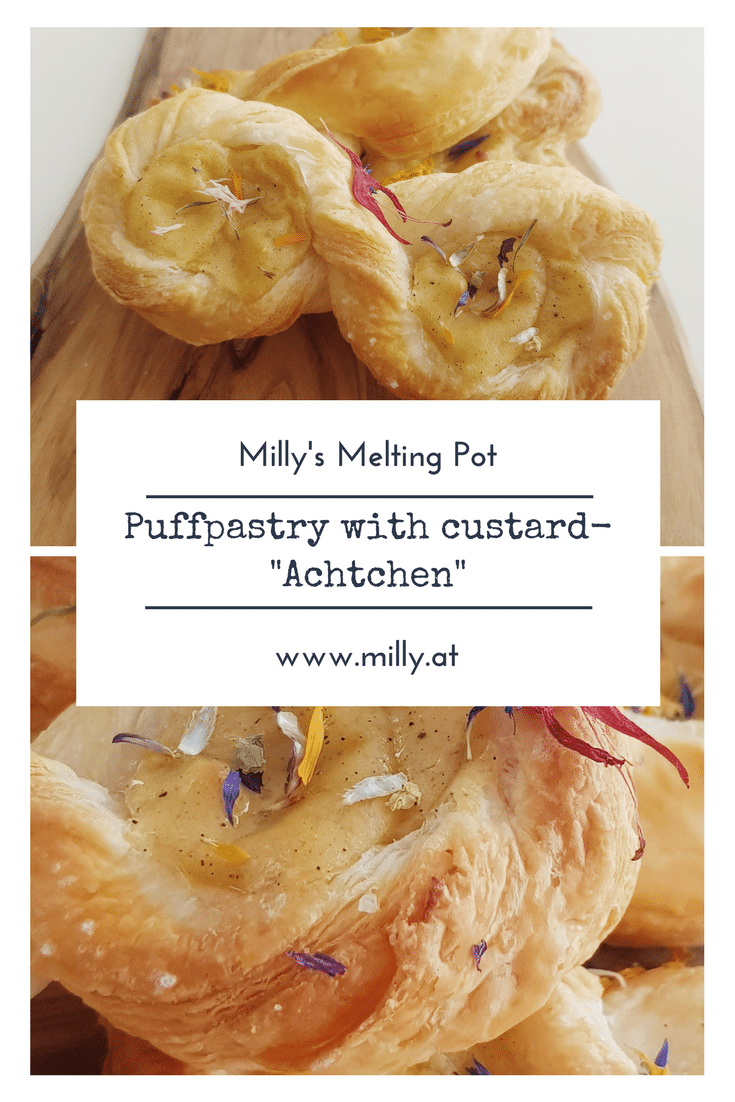 When I think of home, I often think about "Kaffis Kichelcher" (Coffee Cakes) and I get quite nostalgic. "Schnecken" (snails), "Schoklaas Rull" (Chocolate roll), "Streusel" (Crumble cake) und Achtchen (like the number 8) are just a few pastries made of puff pastry that are very popular in Luxemburg. And I made it in my kitchen in Graz to get rid of my homesickness! I was very happy with the result and want to share it here with you. These pastries are a good alternative to the traditional cake when guests are in the house.
Lets start with the creme patissière: Let the milk and scratched out vanilla pod boil. Set aside and let it soak for 15 minutes. Separate the eggs and beat the yolks and sugar until they become frothy. Add the flour and a little bit of the milk to warm the mixture. Then add the rest of the milk and put on the stove. Thoroughly stir until the mixture thickens. After that, cover with cellophane to avoid that the cream develops a skin on its surface and set aside to cool.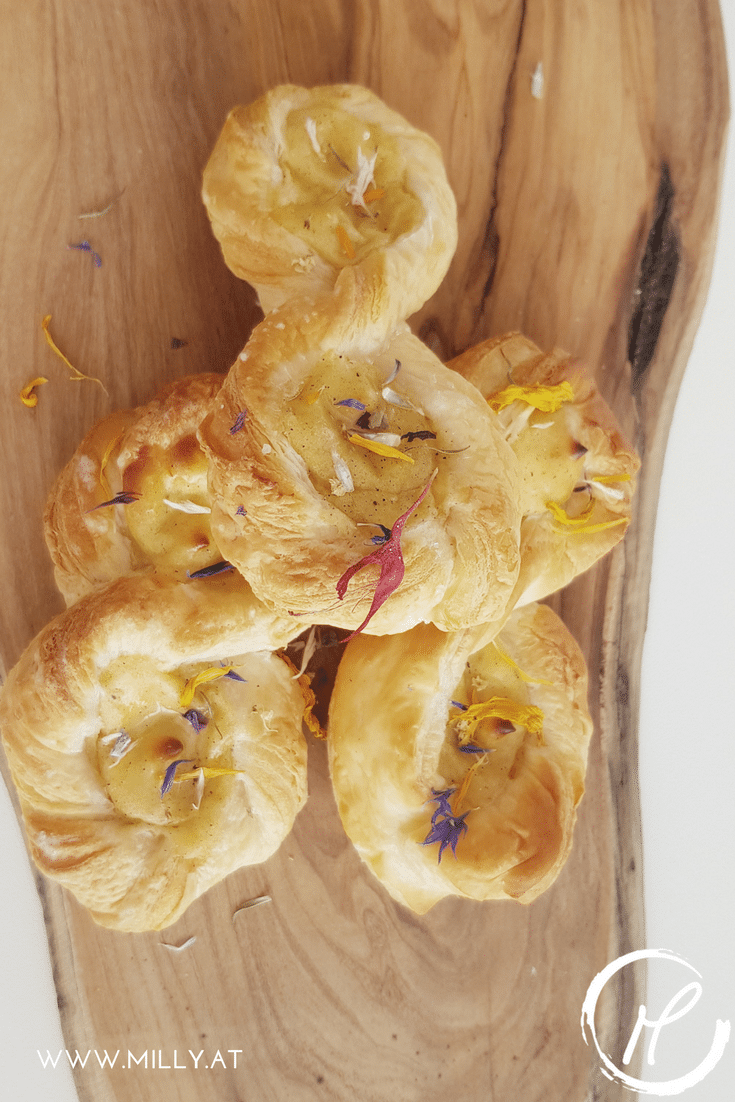 I did not make the puff pastry on my own (although its on my list!). You can buy some very nice pastry at the supermarket here. Cut strips along the long side of the pastry (ca. 1,5-2 cm). Twirl the strips and place on a baking tray in form of an 8. Make sure the ends are stuck tightly or they will come loose during baking as the pastry rises. Fill the "holes" of the 8 with creme patissière using a knife or a spoon. I also added some fine cut apple to add some acidity to counter the sweetness of the cream. Brush the dough with eggwash and bake at 180°C until golden brown. Mix powdered sugar and lemon juice and add a little glaze to the pastry. Let everything cool for a few minutes and serve:) Et voilà 🙂
Don't forget to subscribe to the newsletter for more recipes! Or join my facebook group "The bubbly biochemist – a foodblogger's guide to food chemistry" for more information on the food we eat and how it affects our bodies!
Shopping list:
Creme Patissière:

250 ml Milk
40 g sugar
3 Egg yolks
30 g maizena / flour
1/2 vanilla pod

Puff pastry
Apple
Powdered sugar
Lemon juice