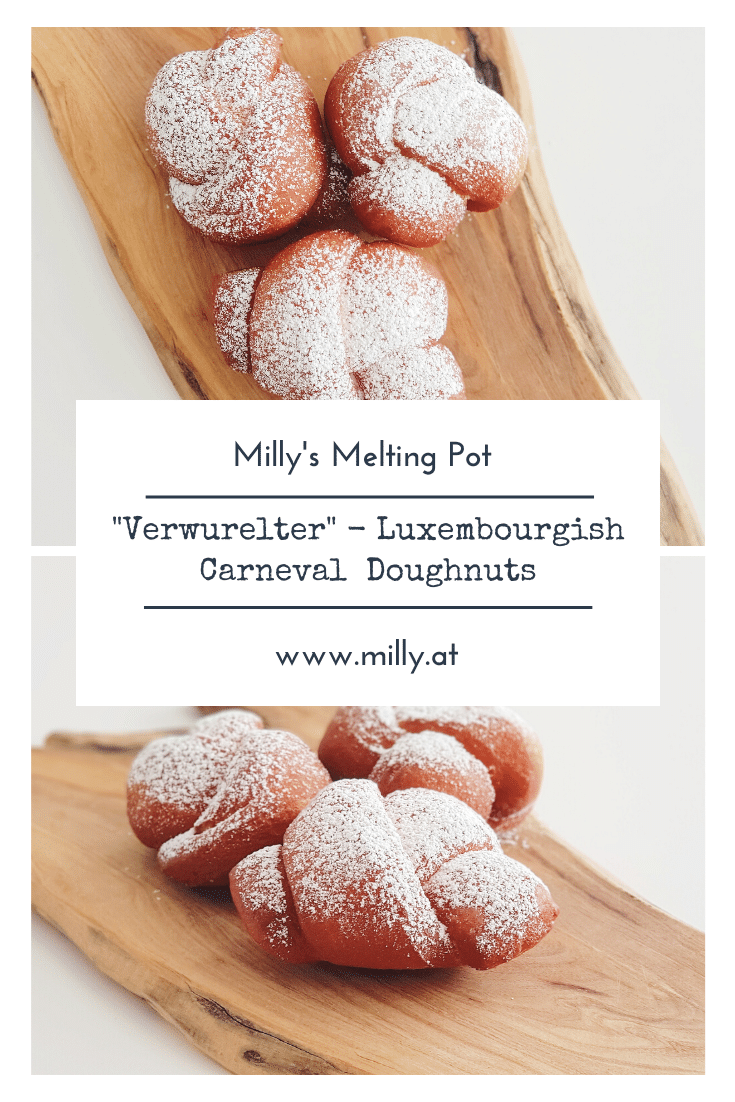 Right on time for the carneval, I had a blast yesterday in the kitchen while making the traditional carneval "Krapfen" or "Berliner". These pastries are similar to donuts as they are deep-fried, but in my opinion they are so much better. I thought about my other grand-mother, Bomi, with which we always used to make these as a child. With these "Berliners" I also made a traditional luxemburgish speciality called "Verwurelter". "Verwurelter" litteraly translated means "the messy/untidy ones". They are little knots, traditionally made of the left-over dough. Covered with a little powdered sugar, the are delicious (yet quite rich) with coffee. However, its not carneval every day, so one can indulge.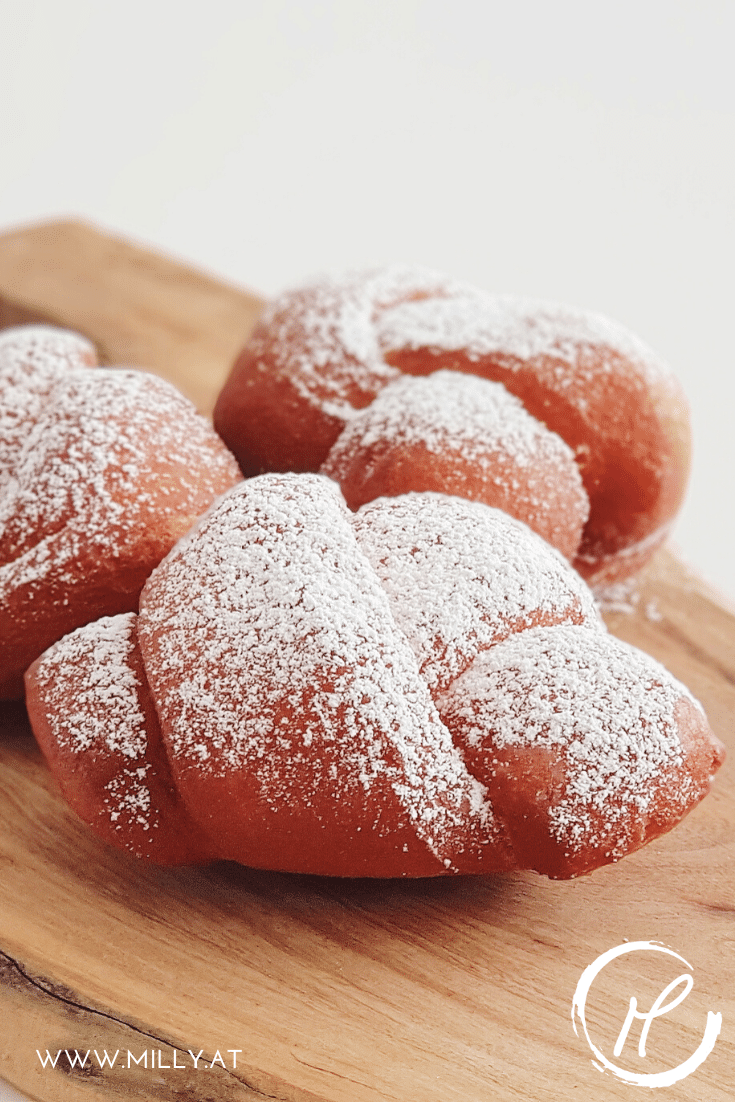 Be prepared that your house or appartment as well as yourself will smell like a frying pan, but it is so worth it. First mix all the dry ingredients well. You can mix the yeast in the flour, however I always dissolve it in the buttermilk. Mix the egg in with the buttermilk and melt the butter. Add the butter to the flour, then add the egg/yeast/buttermilk mix too. Thoroughy mix and knead with your hands for a while. Roll out the dough to a thickness of ca 1-1,5 cm. Use a round utensil to cut out the Berliners (I used a large glass), put it on a baking tray and let it rise until its volume has doubled. Knead the rest of the dough again, and roll it out to a thickness of about 0,5 cm. Cut out stripes of about 2 x 10 cm and form knots. This is just a guideline, and these knots are not supposed to look tidy. Also let the knots rise.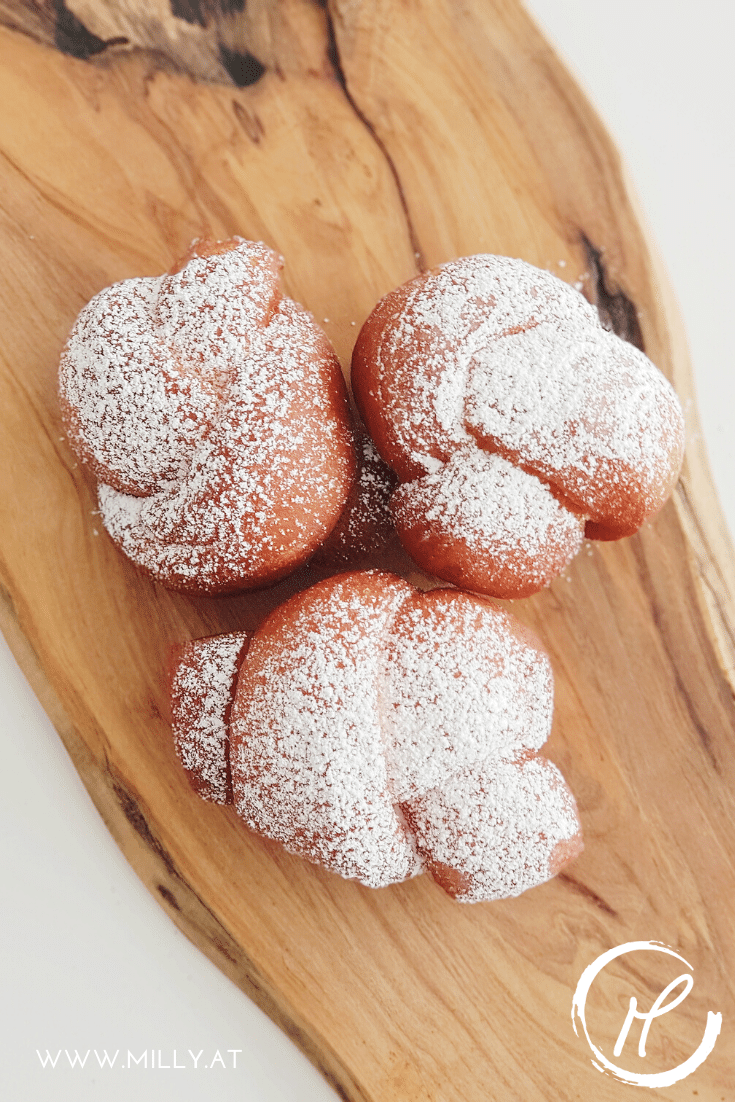 When the dough is ready, heat the oil/fat and deep-fry the knots and the Berliners. Make sure the fat is not too hot as the dough will turn dark brown on the outside and still be raw on the inside. When the Berliners are cool, fill them with raspberry jam or fruit spread (of course you can use any other jam). Cover with powdered sugar.  Et voilà:)
You can prepare the dough with less sugar, however I personally like it this way. It also depends on what kind of jam or jelly you use. I used a fruit spread which has a lot less sugar and a little more acidity. There are no limits as how you can vary this recipe.
Don't forget to register for my bimonthly emails and receive all of the recipes and news at once. Or just follow Milly's Melting Pot on Facebook, Instagram, Pinterest or now also on Twitter and never miss any news!
Shopping list:
300 g flour (+ flour for the working space)
1/4 cube of fresh yeast
1/8 l fresh buttermilk (from my butter production)
1 good pinch of salt
1 egg
50 g melted butter
50 g sugar
1 pack vanillasugar
Deepfrying fat/oil
Raspberry jelly
Powdered sugar