Homemade garlic butter with wild flower petals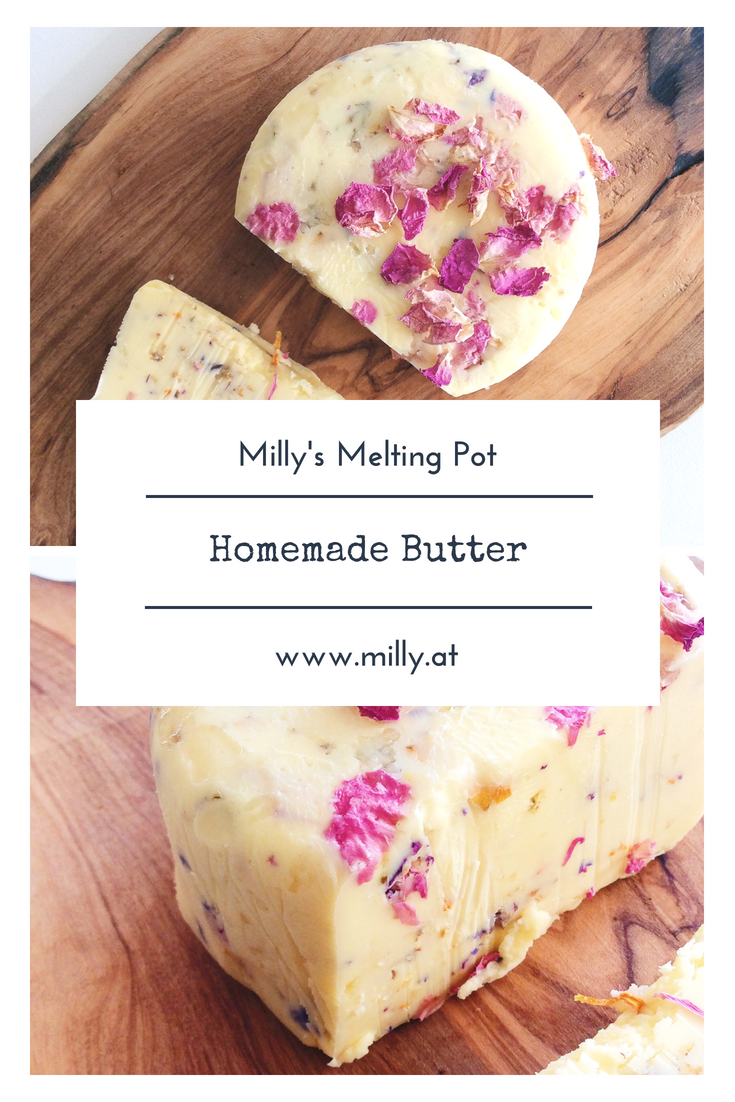 I do not have words to describe how much I love butter (especially garlic butter) and I have a feeling I am not the only one:) On fresh bread butter is absolutely delicious. And its flavor can not be replaced in many dishes, desserts or currys. I was very excited to visit an organic (bio) farm in the Murtal a while back, where I had the pleasure of observing the landlady make sour cream butter from raw milk. I was so impressed by the flavor of this butter, that I had try to make my own.
I realized that making butter is not complicated at all, and I wonder why I have not done this before. This was my second try and it works seamlessly. Just beat the cream (I used normal cream) until the butter and buttermilk separate. While beating the cream you will be able to observe different steps: first the cream will transform into whipped cream. Them it will take on a yellowish tint and become slightly granulated, however it is still one mass. AT one point the butter will separate from the buttermilk and you will be able to clearly see and hear it.
It is very important to wash the butter. Just collect the buttermilk (Tip: use the buttermilk in different cakes, I used it to make carneval fritters) and add ice cold water to the butter. Mix it by hand or shortly with the mixer and discard the water. Repeat this step until the water remains clear (it took me about 6 washing steps). According to the lovely farmers lady these washing steps help remove the remaining buttermilk from the butter, which drastically increases its shelflike as it will not go rancid so quickly. Sounds logical and is based on her experience. I can not confirm this as my butter never lives beyond day 2 or gets stored in the freezer.
There are no limits as to how you want to use your butter. You can prepare clarified butter (or ghee) or make a garlic butter. As I was so inspired by a recipe from the farmers wife, I decided to make a butter with wild flower petals and garlic. Add salt and pepper to taste. Et voilà:) Many thanks to the wonderful lady in the Murtal!
For more recipes like this, join the newsletter or follow me on Facebook, Instagram or Pinterest!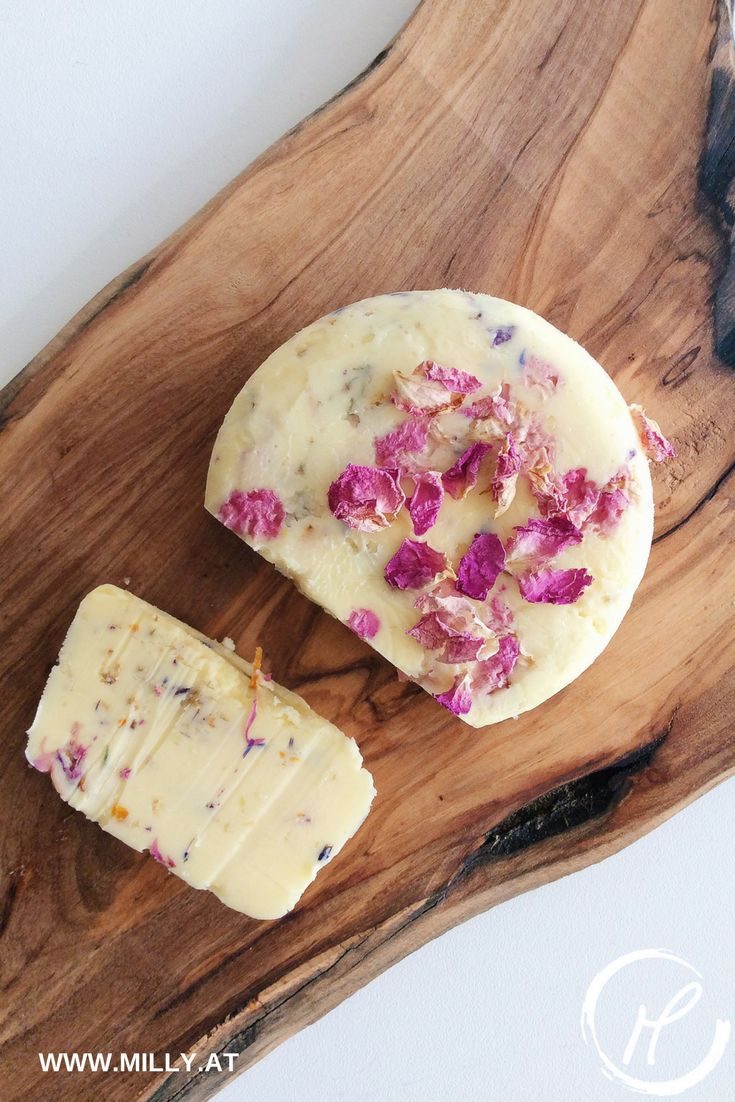 Shopping list (you will get about 1/3 of the amount of cream you use, as the cream has roughl 32% fat):
Cream
Dried wild flower petals
Garlic
Salt
Pepper