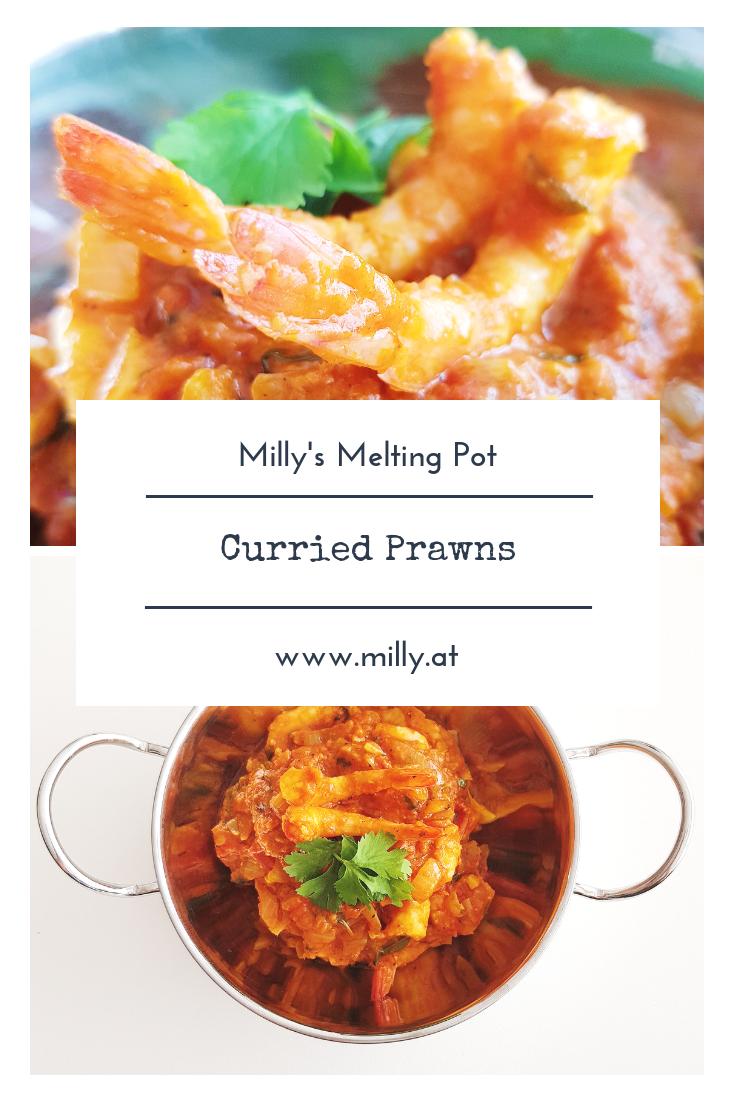 Last year I visited my family in London and my aunty served the most marvellous curried prawns – I can still taste them now! Not many cooks can make a room go silent but she can! And although she showed me and I wrote everything down, I have not yet managed to cook it myself. I have therefore decided to make my own recipe where I combine some elements of indian as well as thai cuisine – and the result was this lovely tangy prawn curry!
This quick dish actually combines the heartiness of indian cuisine with some more fresh and fruity elements of thai food! And what round it all up is that touch of butter at the end! It is not much, but I have noticed that butter just round up some dishes and underlines certain flavors!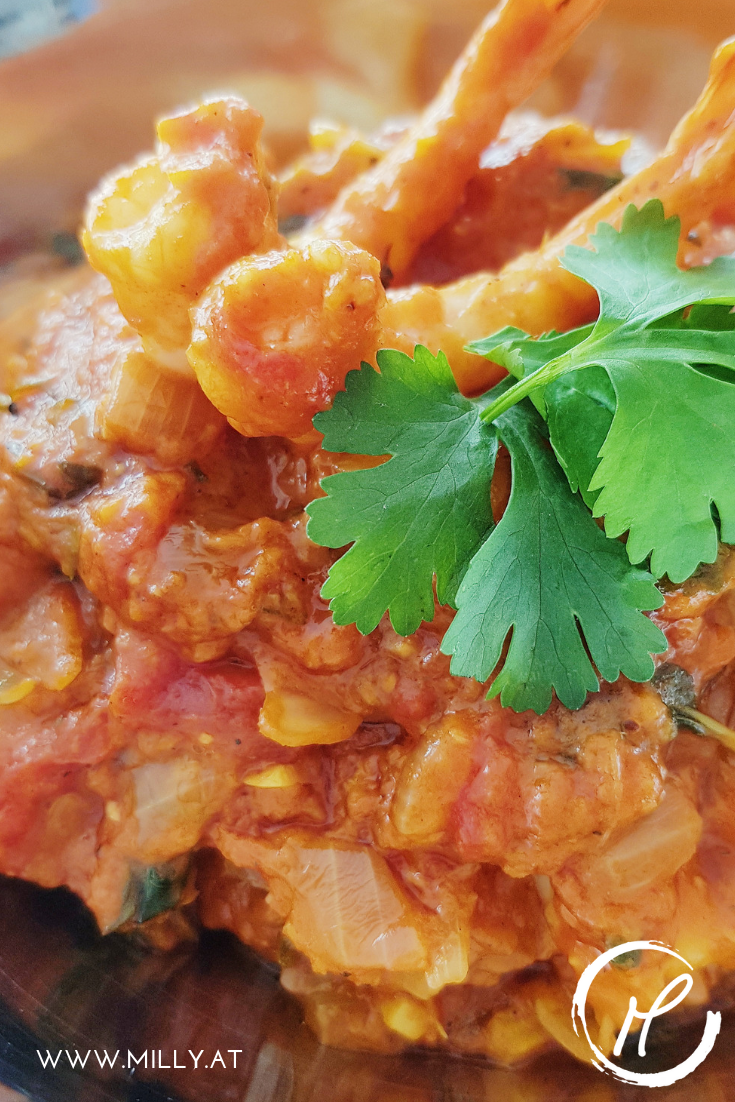 First gently fry a hand full of chopped onions, but be careful that the oil is not too hot. Then add lots of chopped garlic – the more the better – and saute it for a couple of minutes. Add 1 Tsp of gi9nger-garlic paste and fry for a minute. Now add the chopped herbs and lime juice and simmer untill the liquid has almost evaporated. ADd the red curry paste, the ketchup, 1/2 can chopped tomatoes and 1 Tsp of tomato puree. Season with cumin, curcuma and sugar and let simmer for a little bit until the sauce has thickened!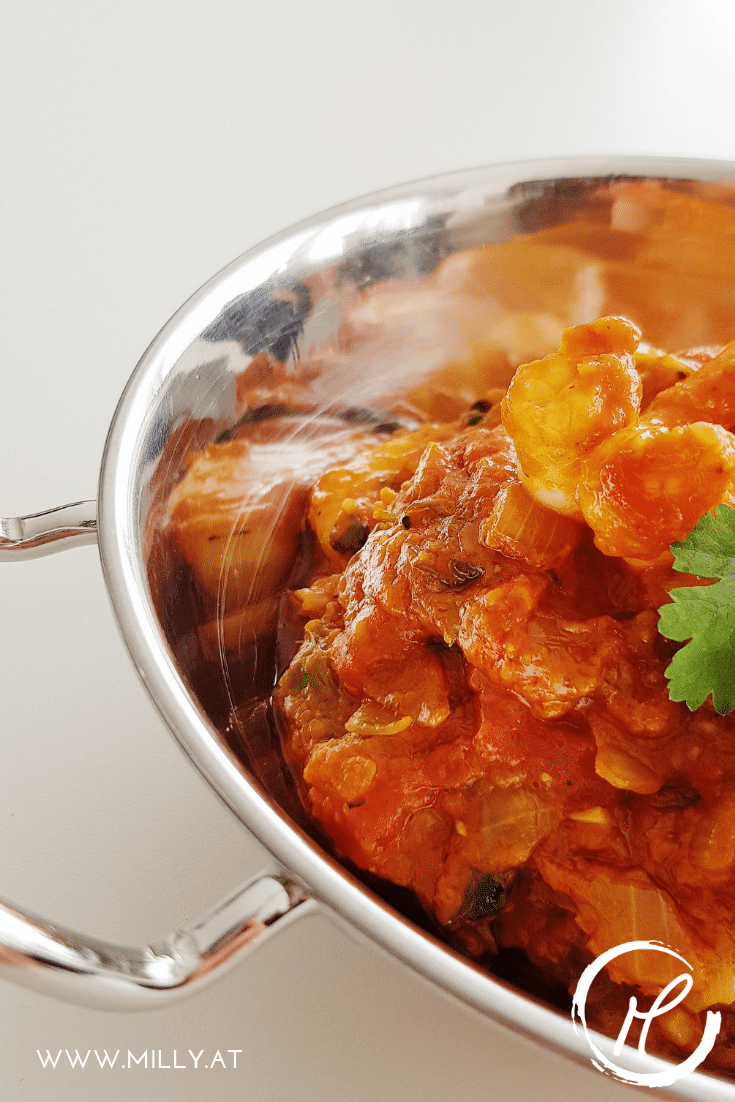 Season with salt, pepper and some chili if you like. ADd the shrimps and cook (if you add precooked shrimps just let them heat thoroughly). Remove everything from the stove and add the butter. Decorate with chopped coriander and serve with rice or rotlis. Et voilà 🙂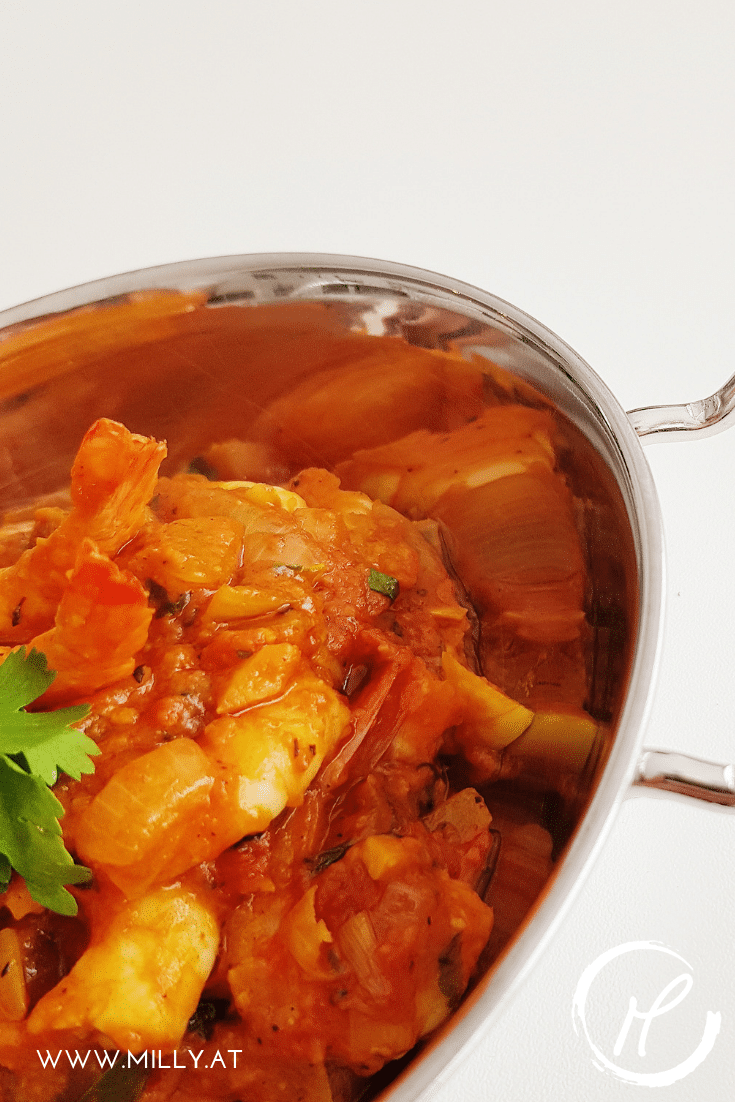 I know not everybody has time to pop by the blog every day! But if you want to read the new recipes and articles then just follow Milly's Melting Pot on Facebook, Instagram or Pinterest! Or register for the newsletter and get everything sent right to your inbox!
Shopping list (for 2 portions):
1 medium onion chopped
5 large cloves of garlic chopped (or more, the more the better:)
1 Tsp ginger/garlic paste
2 handful chopped herbs (coriander, mint, basil, citronella)
Juice of 1/2 limes
1 Tbsp red thai currz paste
2 Tbsp ketchup
1/2 can chopped tomatos
1/2 Tsp cumin
1/2 Tsp curcuma
1/2 – 1 Tsp sugar
Salt/pepper
ca 200-300 gr prawns
1 Tbsp butter
Chopped coriander for decoration