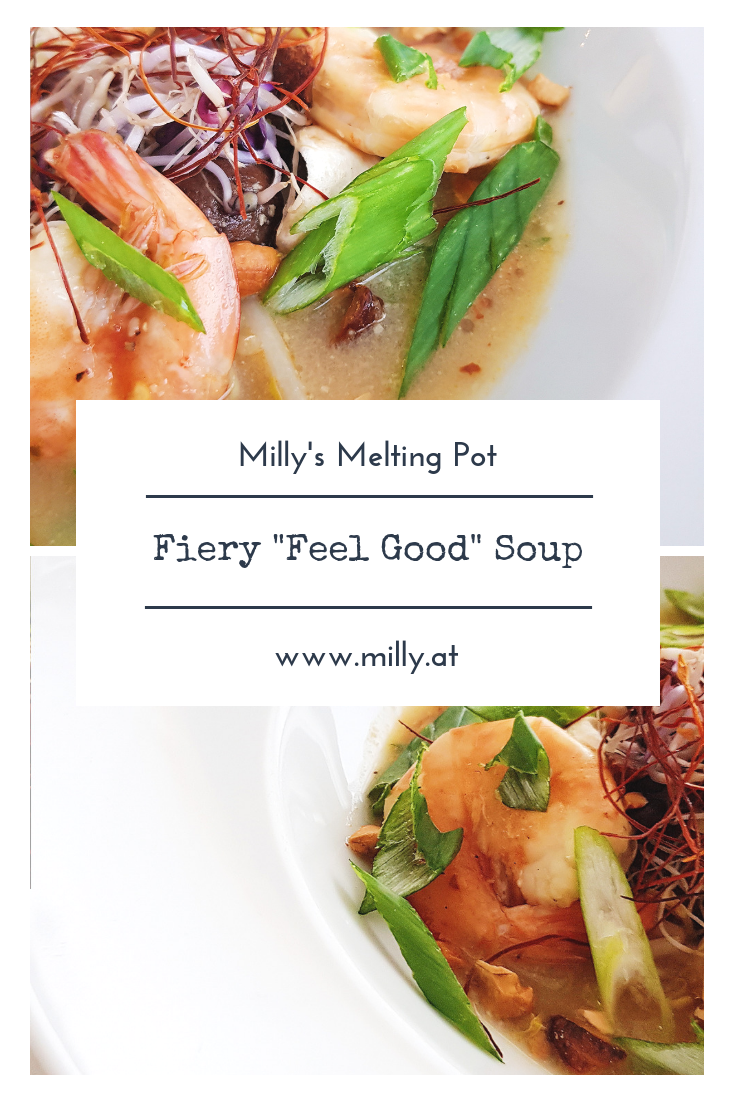 A few experiences in my life led to the fact that a recipe in the "Bon Appetit" magazine caught my eye: first of all I am addicted to everything Thai, especially soups. I think the ingredient that just does it for me is lemongrass. Secondly: here in Graz there is a little street food stand which sells Poke Bowls in Summer and special soups in Winter. And their soup – oh boy! Does it make you addicted: they have a tangy, fiery broth combined with a ton of different ingredients like crunchy veggies, tofu, noodles etc. I never managed to copy this soup by taste alone, but when I saw this recipe, I instinctively knew this is it! I did alter it a little to my own taste, but that is the freedom I grant myself as a foodie:)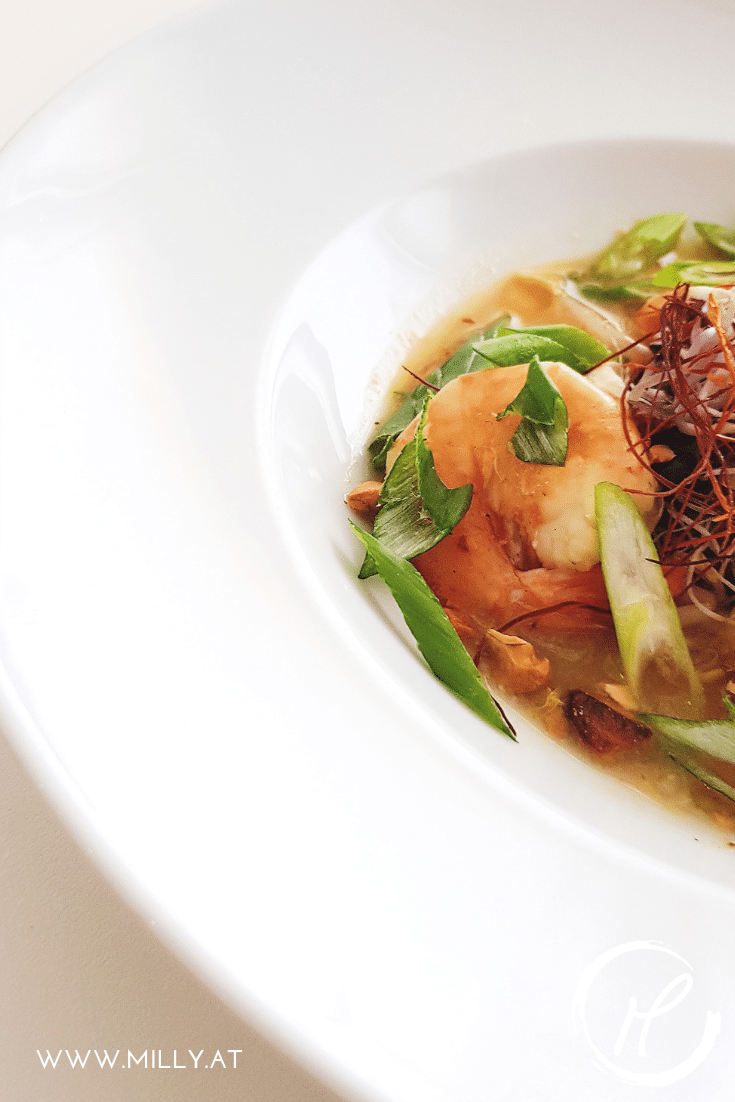 First slightly fry all the dry spices in a little bit of ghee until they start to diffuse a scent. Then add the chopped coriander, shallots, ginger-garlic paste an fry for a minute or two. Add the broth and season with the fish sauce, salt and pepper. Depending on what broth you use, be careful to not add too much salt. Best to add a little less and season at the very end. Now simmer the broth for good 2 hours. Strain the broth into another pot and press on the solids, especially the lemongrass and shallots. This broth can be easily prepared and frozen.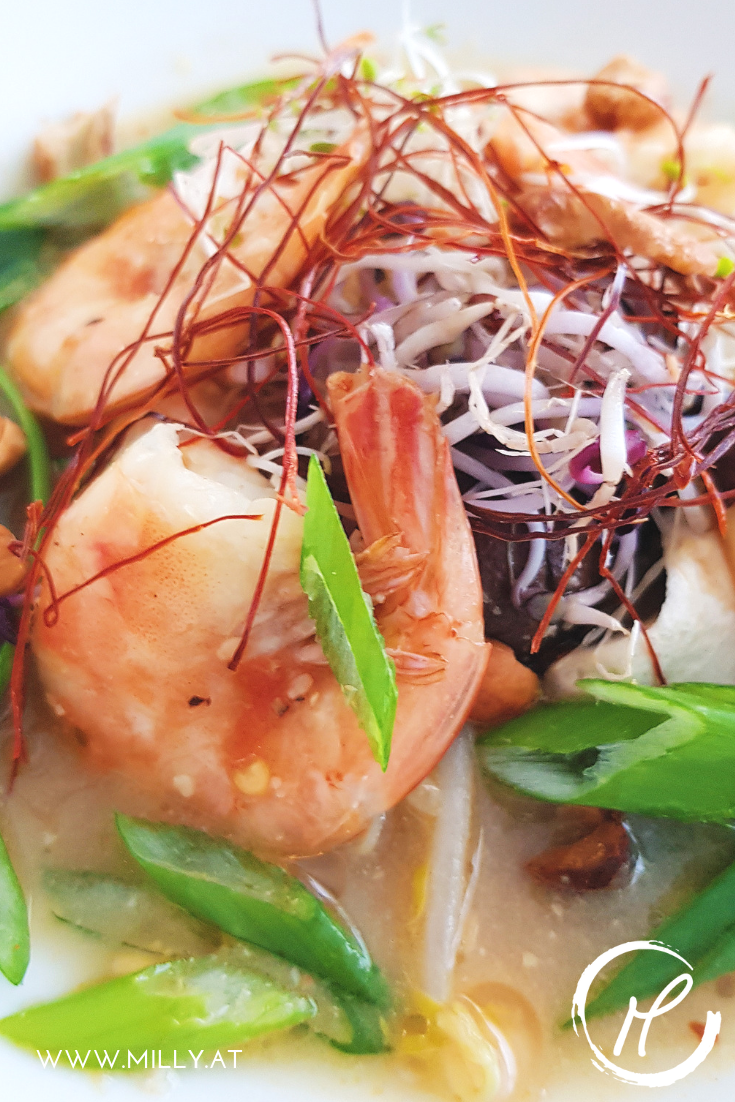 For the paste add all the ingredients into the blender and mix to a smooth paste with a little water. Fry the paste with some oil in a pot until starting to brown. Before you serve this soup, cook the shrimps for a few minutes in the broth, then add the chopped veggies or any other ingredient you like. Serve the broth mixed with 1-2 tablespoons of paste and season everything with some lime or lemon juice. Et voilà 🙂 A soup that warms the soul!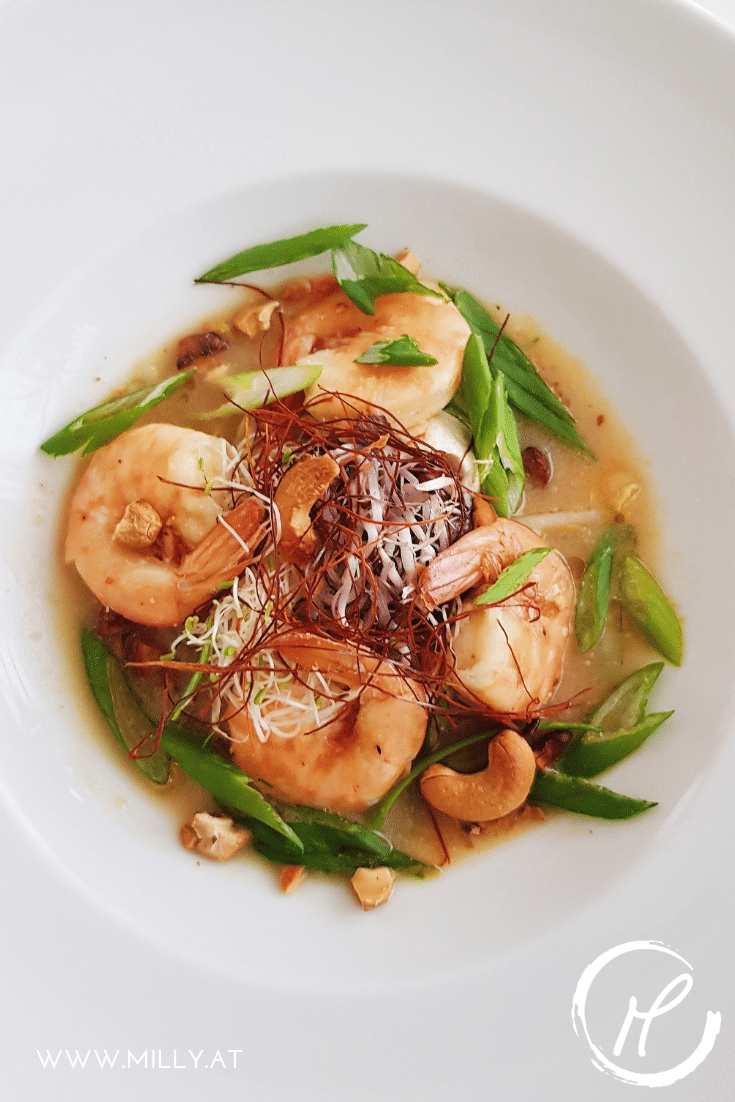 Don't forget to register for my e-mail list and get an email every 2 weeks with the latest recipes and news. Otherwise just follow Milly's Melting Pot on Facebook, Instagram or Pinterest.
Shopping list:
Broth:

6 Cloves
6 green cardamon pods
4 star anis pods
3 dried chilis
3 medium cinnamon sticks
1 Tbsp pepper corns
1 hand full chopped coriander
2-3 coarsely chopped shallots
2 Tbsp ginger-garlic paste
6 peeled and chopped pieces of lemongrass
2,5l broth (beef or chicken)
2 Tbsp thai fish sauce
Salt/Pepper

Paste (4-5 Portions)

60 gr cashews
1 shallot
1 tsp chili flakes
2 peeled and chopped pieces of lemongrass
1 large Tsp ginger-garlic paste
1 Tbsp brown sugar
1 Tbsp anchovi paste
2 Tbsp oil

Rest of the ingredients (per portion and to taste)

5-6 shrimps
Mung bean sprouts
Spring onions
Sugar snaps
Fresh herbs likecoriander, mint or basil
Salt/Pepper
Lime or lemon juice
Roasted and chopped nuts
Vinaigrette from lemon juice, salt, garlic, tomato paste and oil
Chili oil
etc..