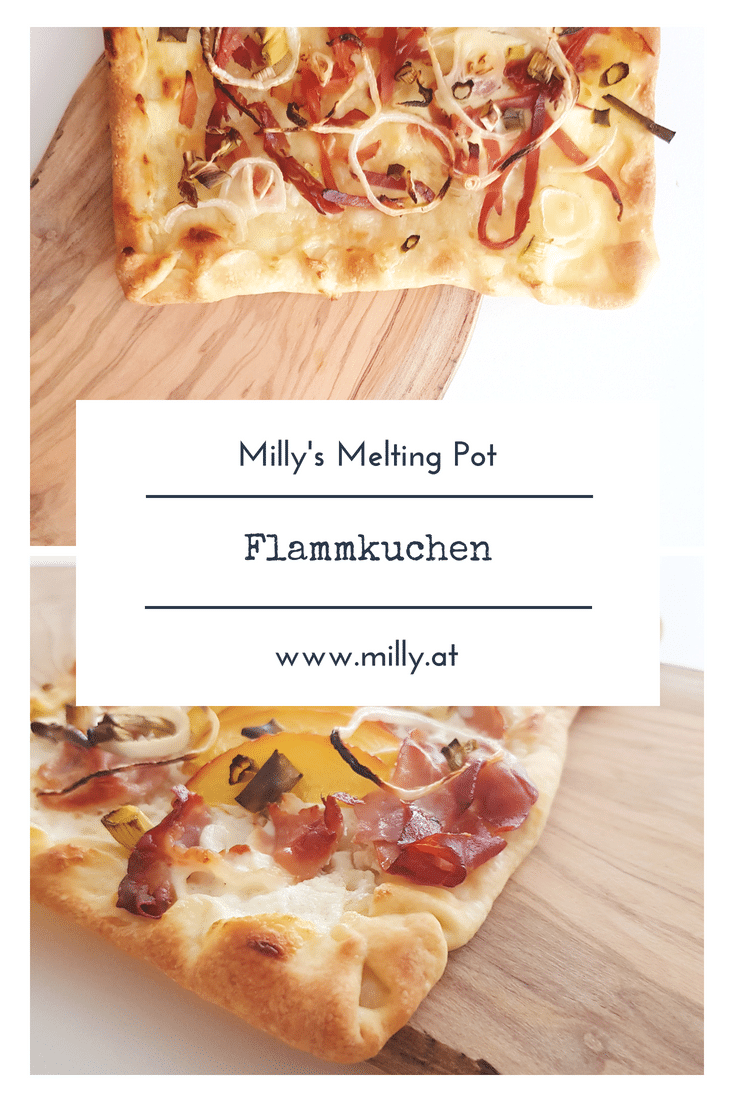 Flammkuchen is a speciality from the Alsace and its sorrounding region. The dough is very thinly rolled out bread dough and in the olden days it was use to gage and adjust the temperature in the bread baking oven!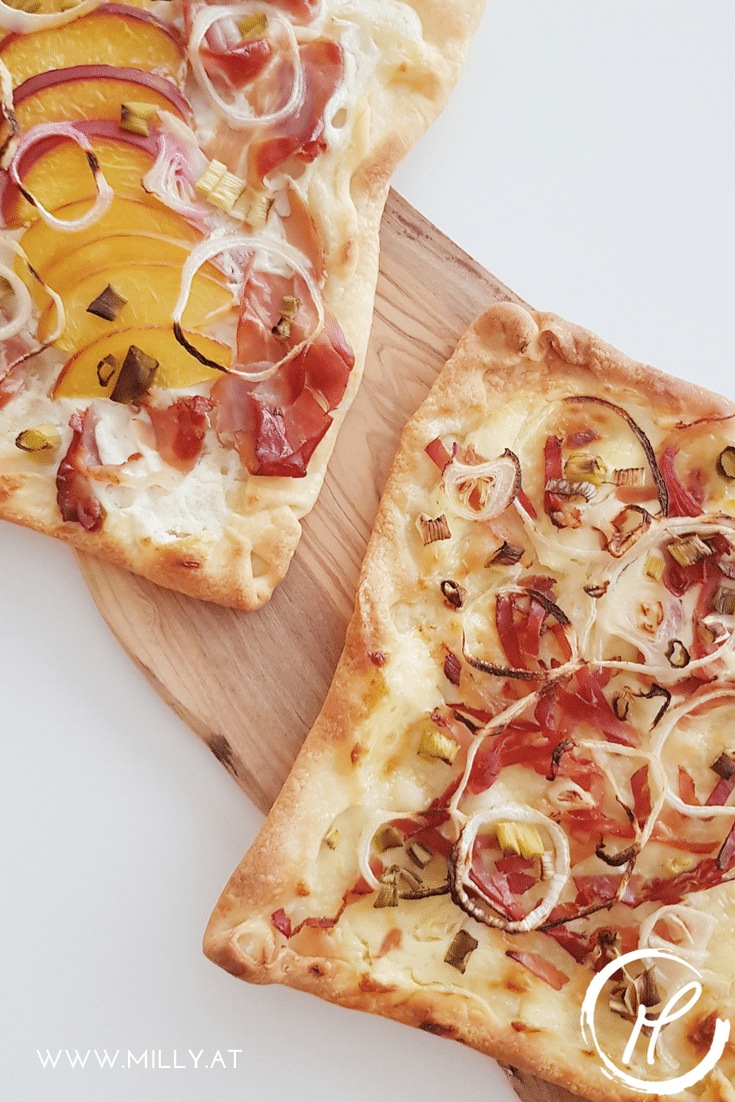 Recently I have tried a few recipes with this dough instead of pizza dough, and I actually prefer it. One of these dishes was a great appetizer my sister in law made: it was this flammkuchen dough with fresh tomatoes, garlic and a generous splash of olive oil – absolutely delicious. In this recipe you will see that the flammkuchen will be prepared in less than 10 minutes and cooked in 10 minutes too! I tried a few recipes for the dough, but I find the store bought one actually quite tasty!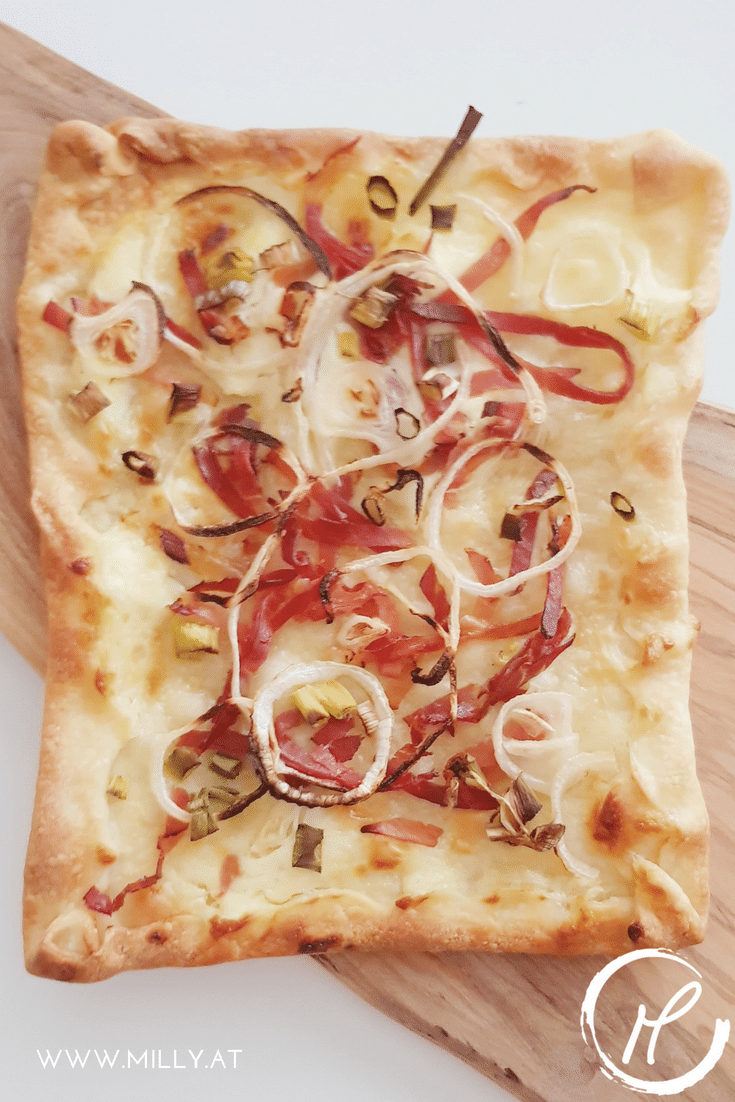 Traditionally the flammkuchen only hasa few ingredients such as sour cream, onion and speck. It is also only lightly seasoned with salt and pepper. But there are no limits as to what you can do with this recipe! You can even make a really good sweet version for dessert with fruits and cinnamon! Whatever you fancy:)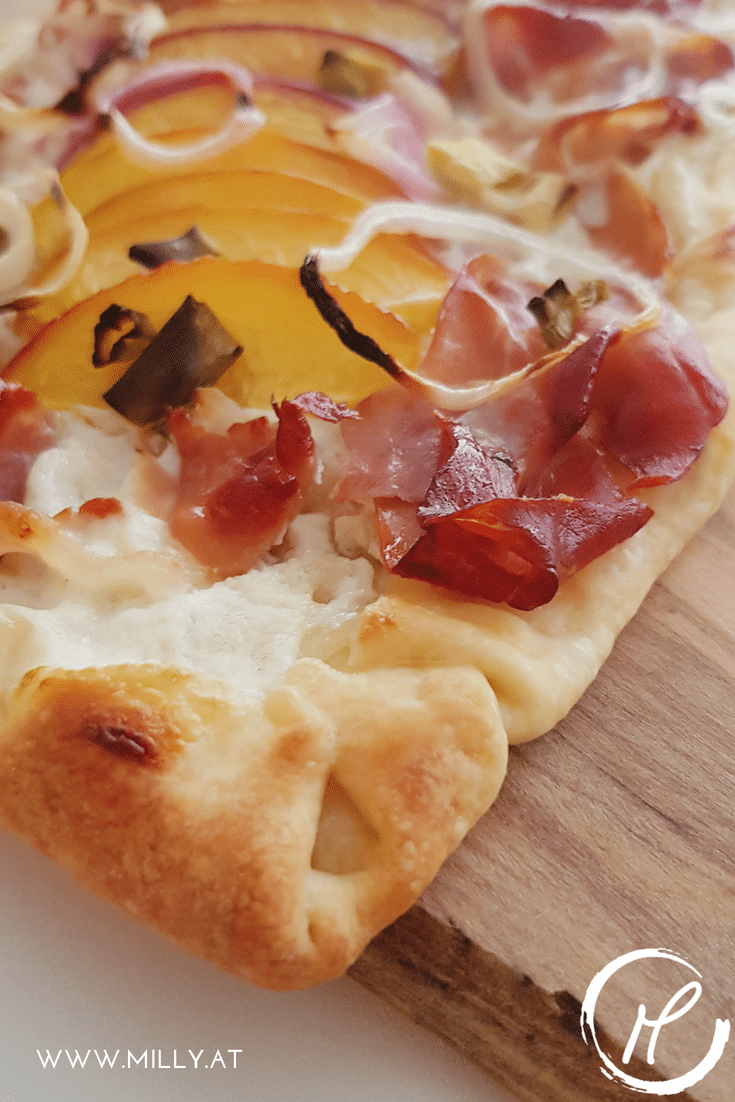 I decided to try out 2 variants: the classical flammkuchen where I used creme fraiche, spring onions and speck and a slightly more unusual variant with sour cream, nectarines, onions and prosciutto. Just spread the creme fraiche or sour cream on the dough, fold the sides in slightly and add the rest of the ingredients. Bake to a crisp at 200°C for 10 to 12 minutes. Et voilà 🙂 A quick snack or dinner in less than 10 minutes!
I know not everybody has time to pop by the blog every day! But if you want to read the new recipes and articles then just follow Milly's Melting Pot on Facebook, Instagram or Pinterest! Or register for the newsletter and get everything sent right to your inbox!
And if you are interested in how fats work in your body then check out this article in my blog section "The bubbly biochemist" !
Ingredients (for 2 smaller or 1 large flammkuchen):
1 pack of flammkuchen dough (or home made dough)
1 dish of sour cream or creme fraiche (ca 250g)
150g speck
2-3 (spring)onions
salt and pepper
alternatively:
1 pack of flammkuchen dough (or home made dough)
1 dish of sour cream or creme fraiche (ca 250g)
2 nectarines
a few slices of prosciutto
2 (spring)onions
salt/pepper