Tasty whole grain "Mielkniddelen" – Luxembourg's own dumplings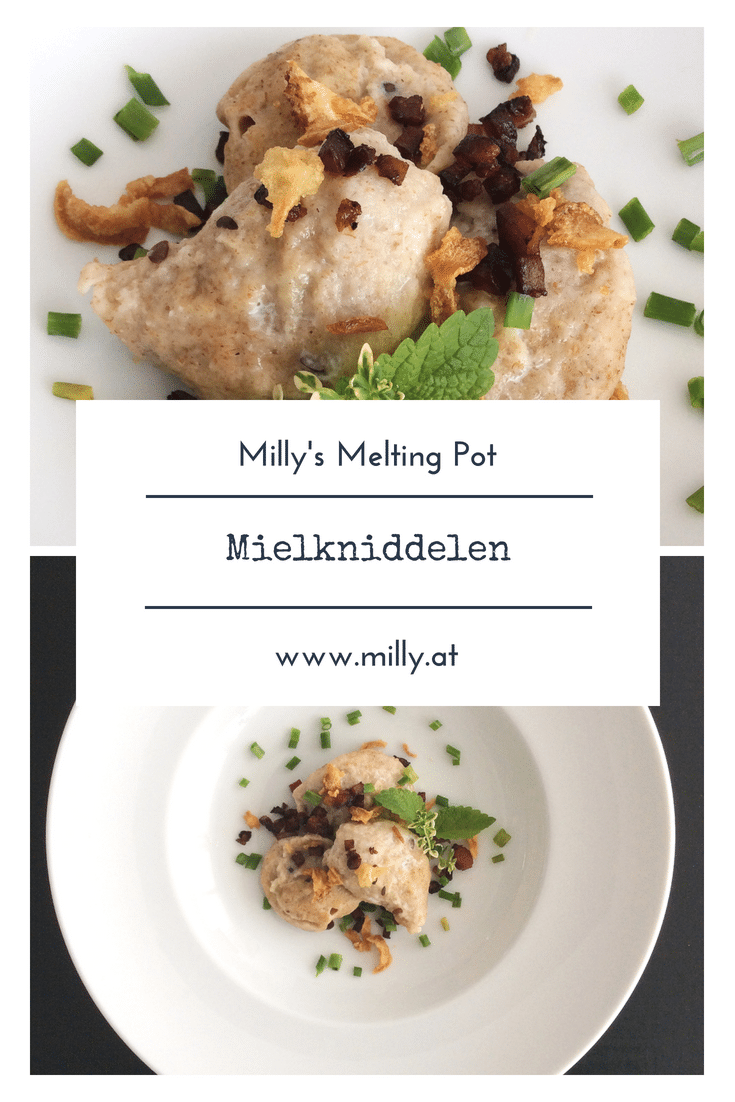 Today for the National holiday, I will publish a recipe that is very dear to my heart – "Mielkniddelen" or Luxembourg´s own dumplings. This is one of my favorite dishes, served with a dash of cream and som crispy bacon – it is an absolute highlight for your taste buds. This recipe is also an ideal way to use up your old bread instead of throwing it away.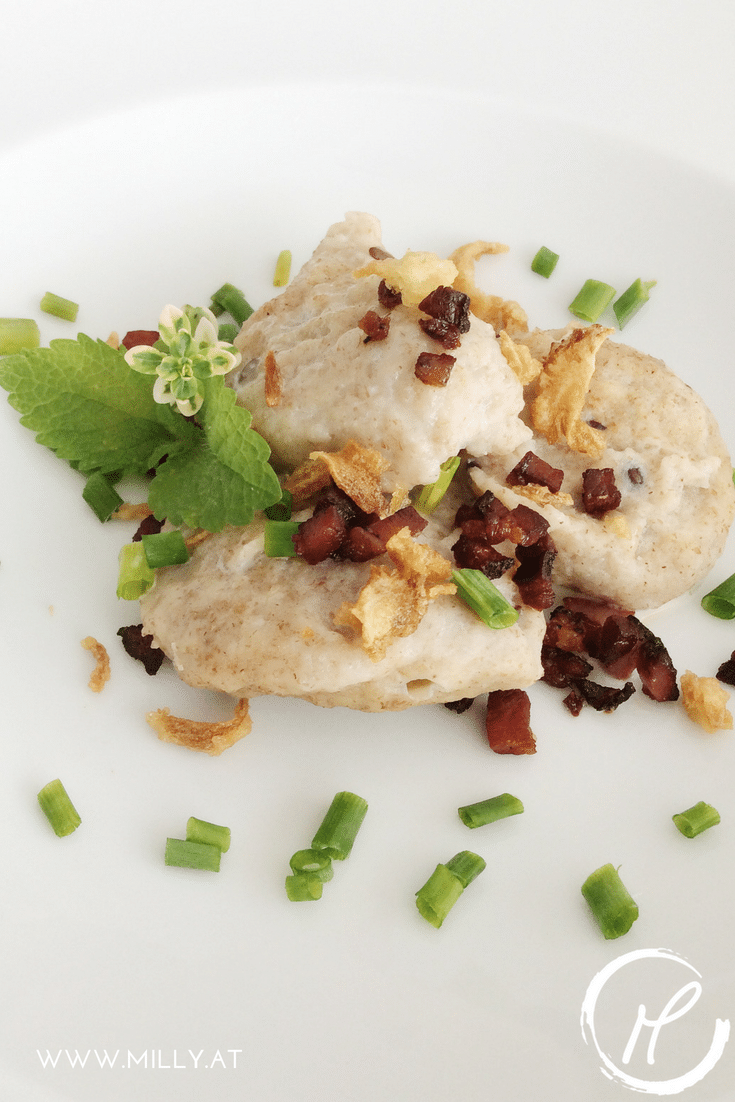 Just pluck the bread into little pieces and cover with milk and a pinch of salt. Let the bread soak until you can easily crush it with a fork. Add the eggs, baking powder and flour and mix vigorously. The amount of flour you will need depends on the amount of milk you used and the size of the eggs. I would describe the ideal consistency of the dough as very thick and viscous, but still liquid. In this recipe I replaced half the flour with whole wheat flour and I also used whole grain bread. But this is up to you! Let the dough rest for half an hour. During that time fry the bacon and put on a pot of salted water to boil.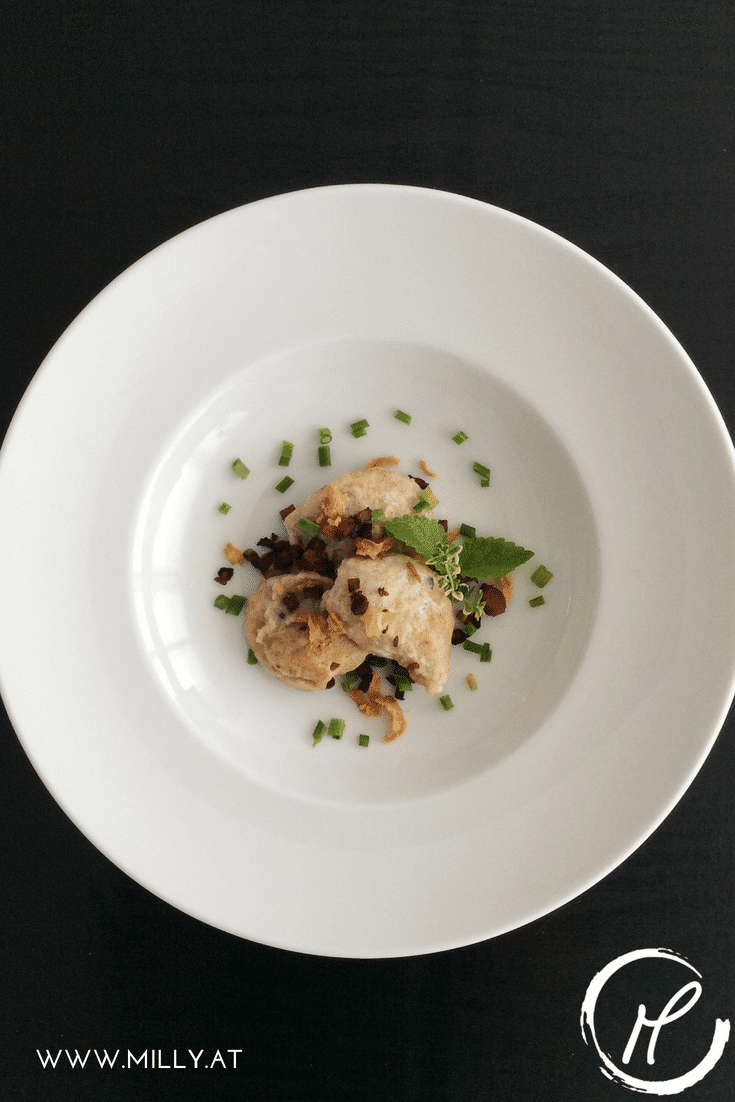 ---
RELATED: Find some more recipes for luxembourgish cuisine here!
---
When the water is boiling, dip the spoon into the hot water and then use it to portion little dumplings with the dough – they do not need to be round or perfect. Add them to the boiling water. Usually they say that the dumplings are done, when they float on the surface, however this was not the case with me last time. But the dumplings don"t need very long – 2-3 Minutes maximum depending on their size. Add a dash of cream, the bacon and garnish with chopped herbs. For the vegetarian variant, just hide the bacon..Et voilà 🙂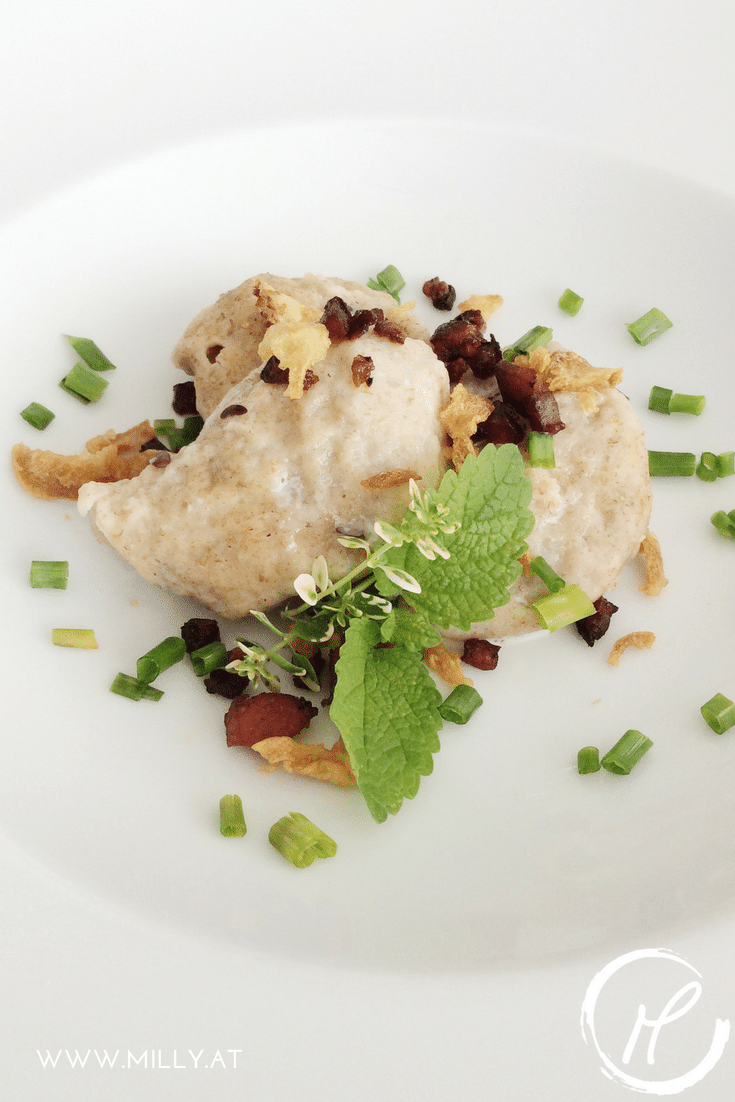 I know not everybody has time to pop by the blog every day! But if you want to read the new recipes and articles then just follow Milly's Melting Pot on Facebook, Instagram or Pinterest! Or register for the newsletter and get everything sent right to your inbox!
Shopping list (for 4 portions):
2 slices of old bread
milk to soak the bread
1 good pinch of salt
2-3 eggs
1/2 Tsp baking powder
ca 10 Tbsp flour (depends on the amount of milk and eggs, just add 1 spoon at the time)
Bacon to taste
Cream to taste
Herbs to taste