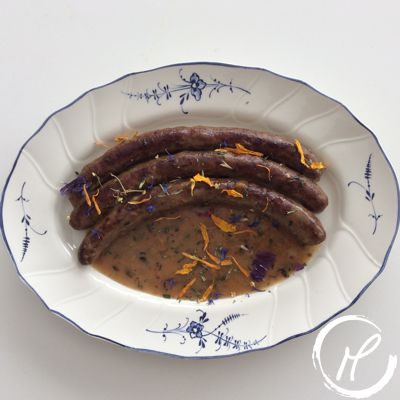 "The luxembourgish cuisine is characterized by the richness of german cuisine combined with the finesse of french cuisine" (Source, translated by me:) I could not have explained the character of luxembourgish cuisine with any better words! As Luxembourg is lodged between Germany, France and Belgium, its cuisine also reflects the influences of theses countries, without however loosing its authenticity.
Every time I go home, one of the first dishes I crave is "Wainzosiss", a special and typical kind of sausage. I prefer it with a mustard sauce or on the barbecue. And if I am lucky enough to have a short return flight to Austria, I sometimes freeze some and bring them back. Until recently, it was one of the dishes that I missed most here in Graz. But now I have discovered a very similar sausage in the barbecue section of a famous supermarket. So now I am stashing the sausages in my freezer:)
And they are so simple and quick to prepare: if you have good quality sausages, then it almost cooks itself! But isn't it always the case, that the quality of the ingredients defines the dish. First fry the sausages in some oil until they have developed a good brown color (the darker they are, the darker and tastier the sauce will be). Mix the water, flour and mustard, add it to the sausages and finally add the tarragon. The sauce will be very bland now but do not salt or season it. The flavor will develop from the sausages, it just takes some time. Now let the sauce cook for a little while, until it thickens and reduces. Before serving adjust with the necessary amount of salt. Serve with mashed potatoes. Et voilà:)
Subscribe to the newsletter and don't miss any recipes anymore!
Shopping list (for 2-3 portions):
5 Wainzosiss or equivalent sausages
a little bit of oil to fry the sausage
1-2 Tbsp mustard
1 Tbsp flour
150-200 ml water
1-2 EL dried tarragon