The 3 most versatile spices in my kitchen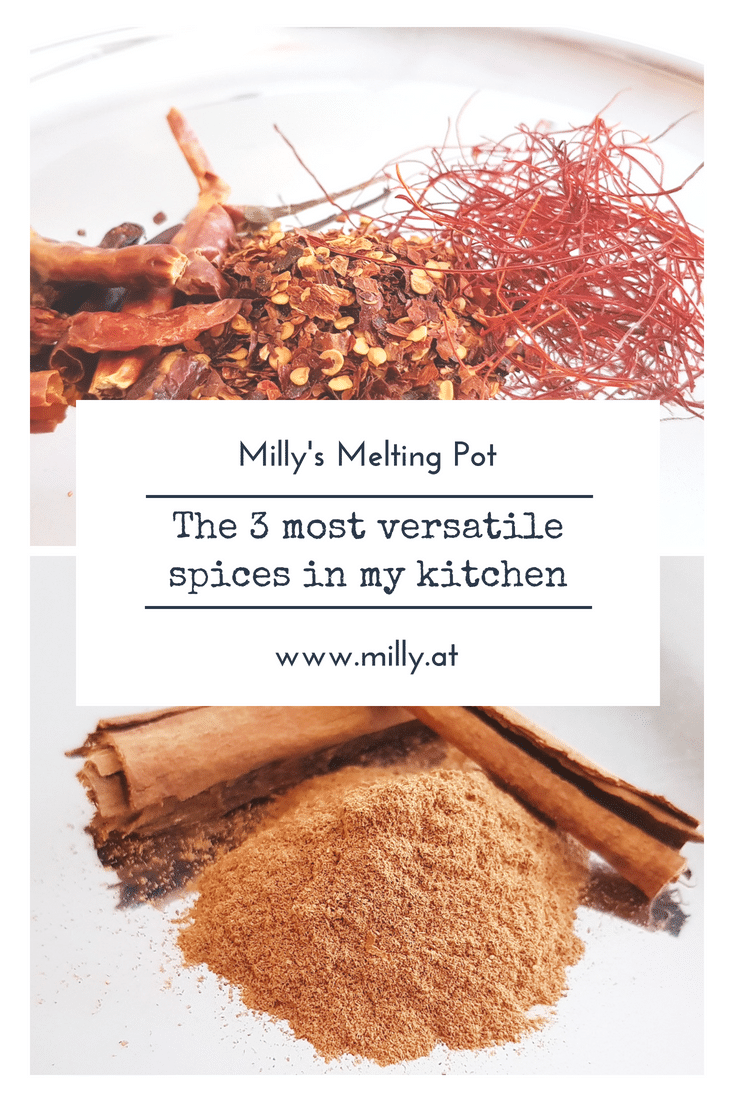 We all use spices every day: be it in our food or maybe while mixing a delicious drink! Spices have a lot more to offer than just their incredible taste. The word "spice" is a genera term often used to describe parts of a pant like leafs, seeds or roots that are used to aromatize our food. The secret of most spices lies in their essential oils – these volatile compounds are mostly responsible for the taste, smell and health benefits of most spices.
Spices in your kitchen
I love using spices while cooking! It is almost like you can travel to distant countries or even remember dishes you had once upon a time. These sensations are exactly what one associates with different national cuisines. For example I mostly associate middle-eastern cuisine with the flavor of fresh parsley and min (ok, more herbs than spices) or I also associate Mediterranean cuisine with the flavors of garlic and oregano. Often though the magic of a spice lies in its combination with other spices.
Spices and their health benefits
Hildegard von Bingen, a famous german Benedictine abbess, had already recognized the healthy effects of spices and herbs nearly 1000 years ago. But it is not just the taste or smell that makes spices so special, but also their direct and indirect health benefits. As an example of an indirect health benefit, one could state the fact that some spices makes food last longer, thereby helping people live a healthier life.
Maybe people didn't realise it so directly in the olden days, but if you look back from an evolutionary stand-point, then you can clearly see that the use and ingestion of herbs and spices gave people a survival advantage by helping them maintain a better general health. For instance, using salt to preserve food makes it safely edible for a very long time. Or for instance you can use fennel to help against stomach troubles.
---
RELATED: Do you want to know more about the science sorrounding you every day?
---
Wikipedia describes the function of spices and related examples really well:
Conservation of spiced foods (Salt, Chili, Rosemary)
Increasing appetite through bitter taste (bitter Liqueur, Rosemary, bitter orange peel)
Stimulation of stomach activity and digestion (pepper, salt, vinegar)
Reduction of cramps and flatulence (fennel, anis, cumin)
Bettering of the taste of spoiled or tasteless foods (rose water, orange flower)
Increase of taste in bland foods (glutamate, vanilla, butter)
Short- or longterm effects of spices on human body:
Increase in bile production and digestion of fats (garlic, onions)

Positive effects on digestive flora (ginger, garlic)
Aphrodisiacal effects, activation of cardio-vascular systems (cloves, chili, ginger, cocoa beans)
Increased concentration, activity (cocoa beans, coffee beans, guarana, cola nut)

Calming and relaxing effect, help with sleep (sage, nutmeg)
I use spices every day: it starts with my morning coffee and stops when I go to bed. In this post I would like to give you my 3 favorite and most versatile spices in my kitchen!
Cumin
Cumin is my favorite spice – I couldn't cook anything without it. I use it predominantly as a powder or the whole seeds. Cumin is also a fixed part of many national cuisines. The Indian cuisine uses cumin as one of the basic spices, and you will find it in nearly every dish. However cumin truly develops its magic when in combination with other spices such as ground coriander seeds or cinnamon. You won't necessarily taste the cumin, but you will notice when its missing. Cumin will be added to most curries, however you also have specific cumin dishes such as the famous "Jeera-Chicken" (Jeera = Cumin in Hindi). Also I recently tried a recipe I found on Pinterest: grilled chicken with a lime-cumin marinade – on of the best grilled chicken I ever had! Cumin is also one of the main spices in the Southamerican cuisine. But you don't have to travel so far to enjoy cumin: it is also a very important spice used in Austrian cuisine. The main dishes that use cumin are the porc roast or a cabbage salad.
---
RELATED: Fancy meat?
---
Cumin doesn't just taste good – it has been used for its health benefits for a while. Cumin helps against stomach troubles. Its essential oils act against cramps in the digestive tract as well as flatulence, similar to fennel or anis. This could explain why people love to eat cumin as much: it helps to digest heavy foods such as porc meat or cabbage. A cumin schnaps is also a delicious way to stimulate your digestion 🙂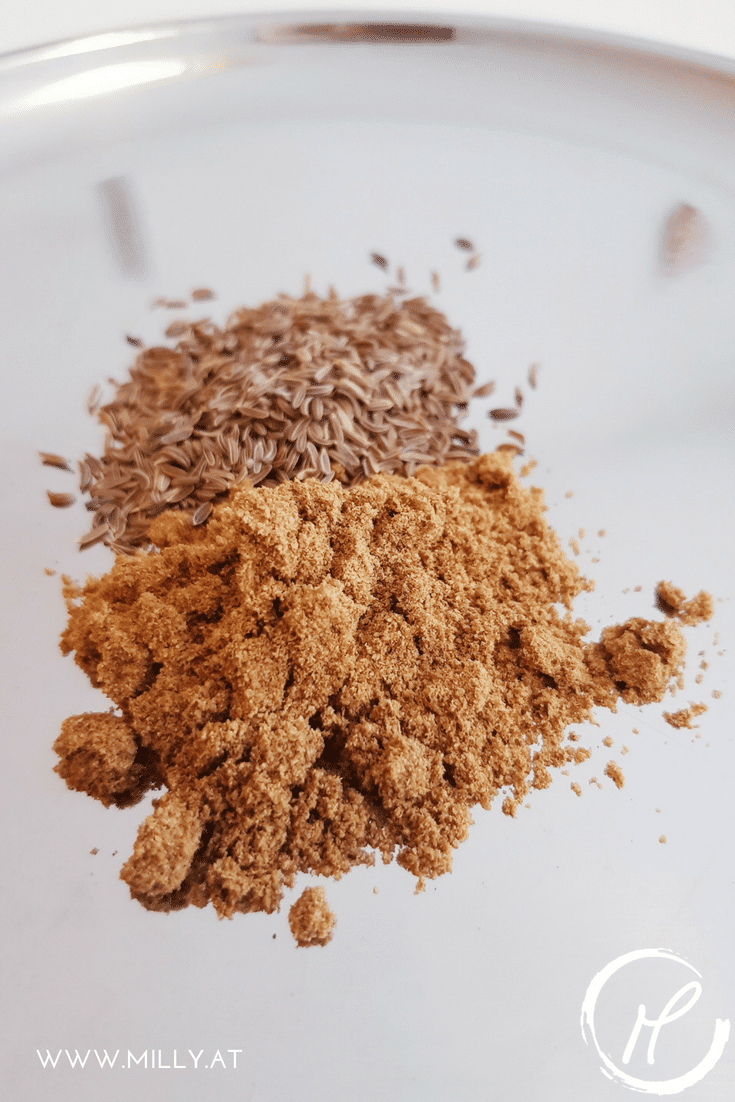 Chili
Similar to cumin, chili is also a basic ingredient in many cuisines such as the Indian or Southamerican cuisines. The word "chili" is often used as a general term describing the hot fruits of different capsicum plants. I mainly use it as a powder or flakes, however I recently started using threads, mainly because they are so pretty. Chili is usually used in savory dishes, however it recently has become popular for sweet dishes too. Mainly it pairs well with cocoa beans or vanilla. I usually add chili to my cakes and cookies – you won't taste it but it will warm your pallet and develop other flavors better such as cardamom or vanilla. My favorite recently have been chili sauces though. I mainly use a special chili-garlic sauce in my cooking, but often I also enjoy the more traditional Tabasco or Cholula Hot Sauce (Affiliate Links). But mainly I make it myself, although I have had some mishaps when it comes to dosing the heat 🙂
Chili is used for health benefits in different ways. It's main beneficial compound is called capsaicin and is mainly used as an analgesic. Like sweet peppers, chilies contain tons of vitamin C as well as antioxidants. It has also been shown that chilies help preserve food and dishes longer as it actively kills microbes and/or stops microbial growth. However, capsaicin is also used as a weapon, as it is the main component of pepper spray.
If chilies can affect "bad" cholesterol levels or blood sugars or if it can help fight cancer is still to be determined – there have been contradictory studies.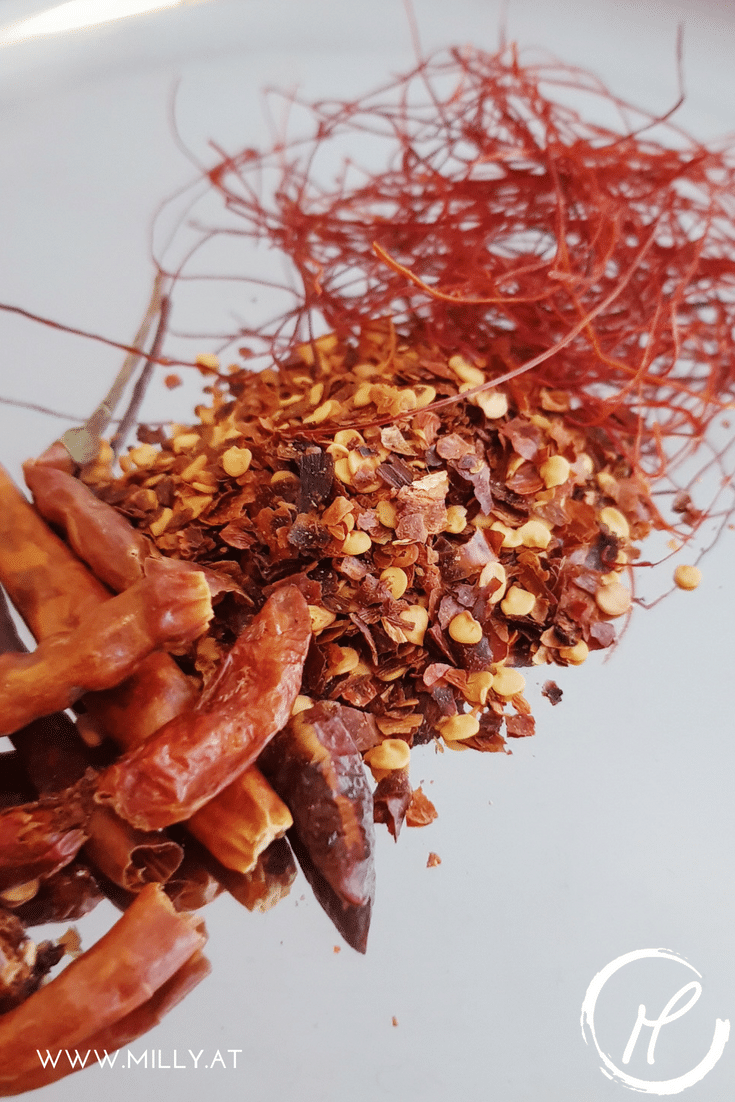 Cinnamon
Last but not least: cinnamon.I use cinnamon every day – I couldn't get through my day without it. For me it isn't just the typical Christmas spice. Cinnamon is a dried portion of the bark of the cinnamon tree. It is mainly used as a powder, however you can also use it as sticks. I always thought that cinnamon is predominantly used in the sweet European cuisine, however it is also a basic ingredient in Indian cuisine. Similarly to cumin, you won't specifically taste the cinnamon, but it will contribute to the overall magic that is Indian flavor. In Europe, cinnamon is mainly used in sweet dishes and mainly during Christmas. I use it in my coffee every day – a trick I learned in Costa Rica. I add a pinch of salt and a pinch of cinnamon to my coffee: the salt neutralizes the bitterness whereas the cinnamon rounds the taste of the coffee, without however being overly dominant.
If cinnamon affects your blood sugars or your blood fats is still not clearly proven – however it has been used for thousands of years and is said to be an aphrodisiac too 🙂
What spices do you use every day in your cooking? Leave a short comment and let me know:) If you can't drop by the blog all the time, just follow Milly's Melting Pot on Facebook, Instagram or Pinterest and never miss a recipe! Or just register for my weekly newsletter and get everything delivered straight to your inbox!